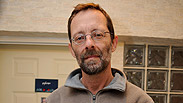 Knesset Member Moshe Feiglin
Photo: Gur Dotan
Hundreds of young Arabs gathered Thursday morning at the Temple Mount in Jerusalem to protest the visit of Knesset Member Moshe Feiglin (Likud) to the disputed scene.

Several of the rioters hurled stones towards the lawmaker and policemen guarding the area. No injuries were reported in the event. Two of the rioters were detained and Feiglin was taken out of the compound. Following the incident, the Temple Mount has been closed to visitors.

Related stories:

After the incident, MK Feiglin said: "I went to the Temple Mount (Thursday) morning in full coordination and early notice with a group of 25 people. Immediately as we walked into the compound a well-planned Arab provocation ensued. At some point there were also pushing and stone throwing."

Feiglin further added that "the police managed to restore its control of the situation and the field commander acted calmly, only at this stage the Jewish group was escorted out of the (Temple) Mount and thus the Muslim violence was awarded and this is without a doubt an invitation for further escalation. This is the reason the (Temple) Mount is a barrel of explosives; there's surrender to violence."

Police previously drew criticism of MK Feiglin, claiming he is trying to ignite the scene at the holy site.

The event took place less than a month after the Knesset held a first discussion on the controversial issue behind the Temple Mount sovereignty. The debate was held at the request of MK Feiglin and dealt with the power of the Waqf and restrictions imposed on non-Muslim visitors seeking to enter the compound. Likud MKs called to "open up the Temple Mount compound and allow Jewish prayer in it."

During the volatile discussion, MK Feiglin said: "Astonishingly, this is the first time the Israeli Knesset debates the question of the Temple Mount sovereignty in the plenum. Every terror organization can wave its flag there. But an Israeli flag? Unmentionable. I call on the government to realize the full sovereignty of the State of Israel on the entire Temple Mount. I call on the Israeli government to allow free access to every Jew to the Temple Mount from every gate, in order to pray on the site"