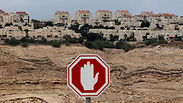 West Bank settlement
Photo: Reuters
The Royal Institute of British Architects (RIBA) voted to call on the International Union of Architects (UIA) to exclude the Israeli Association of United Architects over its refusal to oppose Israel's settlement construction in the West Bank.

The motion, passed after a council debate on Wednesday, said that "since the Israeli Association of United Architects (IAUA) has paid no regard to the UIA resolution 13 of 2005 and 2009, the RIBA calls on the UIA, as the international guardian of professional and ethical standards in our profession, to suspend the membership of the Israeli Association of United Architects, until it acts to resist these illegal projects, and observes international law, and the UIA Accords and Resolution 13."

The RIBA motion was passed by 23 votes to 16 with 10 abstentions.

Related stories:

RIBA member Abe Hayeem said in a statement: "This motion sends a clear message that there is a price to pay for Israel's decades-long impunity in pursuing these apartheid policies, and that the humane principles of our profession cannot be ignored."

Vicky Richardson, director of architecture, design and fashion of the British Council said in response: "The RIBA decision doesn't reflect the views of the British architecture profession. Many architects rightly see this as divisive and unhelpful.

"It's better to let architects choose who they want to work with and keep international links and communication open. Boycotts close off discussion and debate."

Data published by the Israeli Central Bureau of Statistics shows that new Israeli settlement construction in the West Bank increased by more than 120 percent in 2013 from the year before.

Israel has been facing increasing sanctions in Europe over the settlements in the West Bank, with many companies choosing to cut ties with Israeli businesses that have ties to the settlements.

In recent months, a number of Dutch companies have backed out of investments and projects with Israeli firms.

In January, PGGM of the Netherlands, one of the 20 largest pension asset managers globally divested from five Israeli banks because they are involved in financing the construction of Jewish settlements in the West Bank.

The previous month Vitens, the largest supplier of drinking water in the Netherlands, decided to end cooperation on projects with Israel's national water carrier Mekorot over its operations in West Bank settlements.