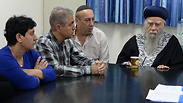 Families of missing Jews with Rabbi Eliyahu Bakshi-Doron.
Photo: Koby Gideon/GPO
Eight of the 11 Iranian-Jews who disappeared in the 90s on their way to Israel were murdered, the Mossad found, a statement from the Prime Minister's Office said Thursday.

The Mossad was still investigating the whereabouts of the remaining three that went missing in 1997, the statement said.

In 1994 and 1997, 11 Iranian-Jews tried to flee Iran to neighboring countries in four separate groups. They disappeared during their escape attempt, and the case remained unsolved for years, with their families not knowing what happened to them.

Related stories:

The men were among 12 members of the Islamic republic's Jewish minority whose disappearances, and the attendant silence from Tehran, have been cited by the US State Department as pointing to possible anti-Semitic persecution.

The families of the eight had pressed Israel to seek information about their fate as part of its past prisoner swaps with Iranian-backed Lebanese militia Hezbollah.

Intelligence sources received from a reliable source, privy to the details, information that these Jews were captured and murdered while escaping Iran.

The statement did not elaborate on who might have carried out the killings. It also did not name the eight men or offer an explanation as to the discrepancy with the US figure of 12.

"This was a sensitive and complicated investigation that constitutes another achievement for the State of Israel's intelligence capabilities," the statement said.

Prime Minister Benjamin Netanyahu has tasked former Mossad official David Meidan, the prime minister's coordinator on the issue of POWs and MIAs, and his personal representative in talks to free captive IDF soldier Gilad Shalit, to tie the loose ends in the investigation.

The information on the investigation's findings was conveyed to Chief Rabbi and Chief of Rabbinical Court Moshe Amar, who issued a halacha ruling that supports and legitimizes the information about the passing of the eight missing Iranian-Jews.

This ruling allows declaring them as those who have passed away, and their wives as widowed, rather than "agunot."

"I send my condolences to the families and hope they find solace in the information they received. We will continue doing whatever is in our power to get possible information about those who have gone missing," Netanyahu said.

"This is an issue that intelligence agencies have been dealing with for over 20 years, and we can finally say the mystery has been solved today. Primarily this is a great intelligence achievement, to be able to track a credible source in a complicated area, that provided them with credible information that allowed uncovering the fate of eight of the 11 missing," Meidan said.

Reuters contributed to this report.