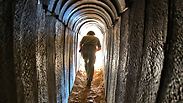 Terror tunnel discovered last October.
Photo: EPA
The IDF discovered a terror tunnel on Thursday near the Gaza Strip border fence, it was cleared for publication. However, Hamas denied the announcement, saying the army found an "old" tunnel.

In a press conference on Thursday evening, Hamas' military, the Izz ad-Din al-Qassam Brigades, claimed that they were able to fix a tunnel that was exposed several months ago, parts of which were destroyed by the IDF.

The Qassam Brigades stressed that it was the stormy weather that hit the area last week and caused a part of the tunnel to collapse that exposed it, and not IDF intelligence.

Hamas' military wing issued a warning to the IDF, saying the Palestinian resistance knows how to claim a heavy price from Israel. Qassam Brigades' spokesman Abu Ubaidah stressed that the preparedness of the resistance organizations in Gaza is a part of the protection of the Palestinian people from "repeated Israeli aggression."

The IDF told Israel Radio on Thursday evening that Hamas was preparing underground outposts and command centers ahead of the possibility of an Israel ground invasion into the Gaza Strip.

Related stories:

The IDF uncvered a 2.5-kilometers-long terror tunnel last October that originated in the Absan village situated between Khan Younis and the Gaza border fence and one of its many exit points was in Israel's Kibbutz Ein Hashlosha.

At the time, troops held extensive checks along the tunnel to dismantle the explosives and locate the many holes that had been dug in it.

It is estimated it was meant to serve terrorists in a high-profile attack on an Israeli kindergarten.

The majority of terror tunnels connecting Gaza and Israel have yet to be exposed. In 2006, seven Gaza terrorists used a tunnel to infiltrate Israel and abduct Gilad Shalit .