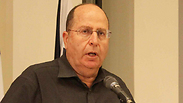 Defense Minister Moshe Ya'alon
Photo: Ido Erez
WASHINGTON – Two Jewish-American groups have intensely condemned the remarks made by Defense Minister Moshe Ya'alon against US diplomatic policies worldwide, dubbing them "absurd" and "over-the-top".

The defense minister said on Tuesday that Israel cannot depend on the United States to lead any action against Iran's nuclear program and can only rely on itself. The minister later clarified he had no intention to harm US-Israel relations, after the comment he made caused a furor between the two allies.

The executive director of the National Jewish Democratic Council (NJDC), a political lobbying group aimed at promoting Jewish values in the political sphere, said in a statement: "Ya'alon has clearly crossed a line with these absurd and over-the-top attacks against Israel's strongest ally. His remarks are simply inappropriate for someone of Ya'alon's stature."

Related stories:

The harsh statement further read: "Despite his tepid apology, we expect better from Ya'alon in the future."

The Israel Policy Forum (IPF), a Jewish non-government organization that promotes a negotiated two-state solution, warned that "Ya'alon is compromising US-Israeli relations. His obstructionist outbursts simply support a view that Israel is not negotiating in good faith and better serves its critics and those opposed to a lasting peace."

The statement issued by the group further read that "We believe that Ya'alon's criticisms of President Obama's diplomatic efforts with Iran were unwarranted and not unconstructive. His statements demonstrate a pattern of behavior which is not appropriate for the proper conduct of Israel's diplomacy.

"IPF welcomes Minister Ya'alon's late apology and sincerely hopes he will return to the important process of negotiating an agreement with the Palestinians that will insure Israel's future as a secure and Jewish democratic state."

Ya'alon has been vocally critical against the United States in recent months, saying US Secretary of State John Kerry was "acting out of misplaced obsession and messianic fervor" during the latest round of talks between Israel and the Palestinians, and adding that Kerry should just "win a Nobel Prize and leave us in peace."

On Wednesday, a US official told Israeli media that Ya'alon was "determined to undermine US-Israel relations. Ya'alon spoke on the phone with Secretary of Defense Chuck Hagel late Wednesday night and stressed: "My remarks had no defiance or criticism or intention to hurt the United States or its relations with Israel. The strategic relationship between the two countries is of utmost importance, as are the personal relations and common interests."