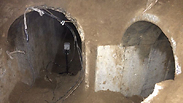 Exposed terror tunnel
Photo: IDF Spokesperson's Unit
"This might be the biggest terror tunnel we ever exposed," said a senior military source Friday morning, following the uncovering of another terror tunnel in Gaza border area this week, which may have been designed for a mission to kidnap Israelis.

The source said that hundreds of meters of the tunnel are within Israeli territory, and claimed that a Hamas press conference held on Thursday – in which the organization claimed the tunnel in question is old – exhibits the stress the organization is under.

IDF forces uncover Gaza terror tunnel (Photo: IDF Spokesperson's Unit) (צילום: דובר צה"ל, רועי עידן)

According to the IDF source, "this is one of the biggest tunnels we have seen so far, or possibly the biggest one." He noted that within the tunnel, uncovered last Tuesday, a generator and other working tools were found, as well as fresh traces from the past few days, "which indicate that there has been excavation work in recent days. We are still unsure of the tunnel's full length."

Gaza Division engineering forces are working in the field to expose the entire spaces and shafts of the tunnel.

Related stories:

While no weapons were found in the tunnel, the military source claimed "it has more advanced branching than previous tunnels." He further added: "The tunnel is of high quality and it seems much thought was put into it and it was designed for a significant attack, such as kidnapping or any other major attack."

Most of the tunnel parts are between eight and nine meters underground, however some part of the tunnel are deeper and reach 20 meters under the surface.




In addition to a generator, the Hamas activists who dug the tunnel also left in it tools used to line the tunnel with cement as well as shielding gear, and the IDF estimates that the tunnel was constructed for months on end.

The army additionally noted that the Gaza Division has recently increased surveillance after tunnels using a new technique developed in the past year and using teams dedicated only to this subject.
'Serious blow to Hamas'
In the past six months, three terror tunnels were uncovered by the IDF. "The exposing of the tunnel is a serious blow to Hamas. The tunnels are considered an ethos to the organization, and once you take away three tunnels in only a few months, it is definitely a serious blow. We caught them in the middle of their work," the military source added.

In a press conference on Thursday evening, Hamas' military wing, the Izz ad-Din al-Qassam Brigades, claimed that they were able to fix a tunnel that was exposed several months ago, parts of which were destroyed by the IDF.

Hamas' military wing issued a warning to the IDF, saying the Palestinian resistance knows how to claim a heavy price from Israel. Qassam Brigades' spokesman Abu Ubaidah stressed that the preparedness of the resistance organizations in Gaza is a part of the protection of the Palestinian people from "repeated Israeli aggression."