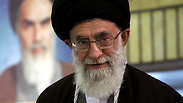 Iranian leader Khamenei
Photo: Reuters
Ahmadinejad is no longer the president, the nuclear negotiations with the west are progressing – but Iran continues to deny the Holocaust: The Islamic republic's Supreme Leader Ayatollah Ali Khamenei has reverted back to his old ways and once against slammed the western world, while denying the Holocaust.

"Even countries that claim to have freedom set red lines on which they're utterly strict. Does anybody dare talk about Holocaust in Europe? The Holocaust is an event whose reality is uncertain and, if it happened, it's uncertain how it happened," Khamenei said in an event in the northern city of Mashhad marking the Persian New Year's Nowruz.

Khemeni called to "oppose western attempts for cultural invasion," stressing an emphasis on freedom of speech. "Doubting the Holocaust is considered a severe crime. They prevent it, jail the defendant, sue him and claim they have freedom," Khamenei claimed. "And they expect us to not defend our red lines about our beliefs?"

Unlike his predecessor Mahmoud Ahmadinejad, who called the Holocaust "a myth", the present Iranian President Hassan Rouhani condemned the "massacre of the Jews by the Nazis" to the American press.

Related stories:

In an interview with CNN in September, Rouhani acknowledged the Holocaust and condemned the Nazis' crimes against the Jewish people.

"In general I can tell you that any crime that happens in history against humanity, including the crime the Nazis committed towards the Jews, as well as non-Jewish people, was reprehensible and condemnable as far as we are concerned," the president said in the interview.

However, the official Iranian news agency FARS claimed that the Iranian president's quotes were mistranslated. The agency claimed that Rouhani never said that there was a Jewish Holocaust.

In February, Iran's Foreign Minister Mahmoud Javad Zarif called the genocide "a terrible and cruel tragedy that should never be repeated," and was summoned to be reprimanded by the Iranian parliament soon after.