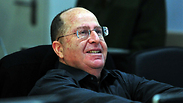 Defense Minister Ya'alon
Photo: Ariel Hermoni, Defense Ministry
WASHINGTON - The US is "disappointed with the lack of an apology from Defense Minister Ya'alon" for critical comments that have caused a furor in recent days, a US State Department spokeswoman said Friday.

On Wednesday a US official told Israeli media that Ya'alon was "determined to undermine US-Israel relations," after the defense minister called the US "weak" on Iran, and questioned its commitment to Israel's security.

In response, Ya'alon made a "clarification" of his comments during a phone call with his American counterpart Chuck Hagel, saying "My remarks had no defiance or criticism or intention to hurt the United States or its relations with Israel. The strategic relationship between the two countries is of utmost importance, as are the personal relations and common interests."

Ya'alon-US spat

Op-ed: Defense minister either thinks Israel is world's biggest power and doesn't US need in any way, or he's just plain stupid.

However, it seems Ya'alon's clarification failed to make amends, and the US is demanding an apology.

"I think we clearly expressed our displeasure by his offensive comments and an apology would be a natural next step," State Department Spokeswomen Jen Psaki said Friday, adding that the US "still has concerns" about Ya'alon's "pattern" of behavior.

"His comments," Psaki added, "don't reflect the true nature of our relationship with Israel."

Earlier Friday a senior administration official echoed the claims, and told Ynet that "Ya'alon has not offered an apology to Secretary Hagel or any other member of the US Government for his offensive and highly disappointing comments, which do not reflect the depth of our security cooperation and the enduring relationship between the United States and Israel."

Related stories:

On Thursday, Psaki said Kerry spoke on the phone with Prime Minister Netanyahu to protest Ya'alon's comments, which she described as "unconstructive" and "confusing."

At the time, sources close to Ya'alon defended him, and said the defense minister was not intet on harming US-Israel relations but was not willing to compromise on issues of security in the Israeli-Palestinian peace process.

"The Americans are calling him a 'hard nut to crack' and an 'extremist,' but in actuality he is standing firm facing what he identifies as a danger to the state and the security of its citizens," a sources said.

Sources close to Ya'alon explained that he had been expressing his concern of American weakness in the world and particularly in the Middle East. They pointed to American policy about Iran and Syria, saying "the United States' confused policy weakens it in its activities in the region."

"Both American and Israeli officials are trying to hurt (Ya'alon). It is a fact his relations with US Secretary of Defense Chuck Hagel are great, and relations between the two (security) institutions are great," the source added.

Ya'alon has been vocally critical against the United States in recent months, saying US Secretary of State John Kerry was "acting out of misplaced obsession and messianic fervor" during the latest round of talks between Israel and the Palestinians, and adding that Kerry should just "win a Nobel Prize and leave us in peace."

Attila Somfalvi contributed to this report.