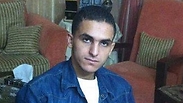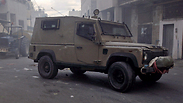 Jenin refugee camp
Photo: AP
Three Palestinians have died in the West Bank in a Saturday morning raid by IDF soldiers that was followed by a clash with angry protesters.

In a joint operation, the IDF, Shin Bet, and an elite Border Guard unit entered Jenin overnight to arrest a wanted Hamas terrorist, Hamza Abu Al-Hija. The Israeli force circled his house and ordered the 22-year-old militant to exit peacefully.

Al-Hija refused to come out, attempting to evade the IDF force. According to the IDF, the terrorist began shooting at the soldiers, who returned fire. The 22 year old was killed. He was armed with an M-16 assault rifle at the time of his death. Two special forces soldiers were lightly injured in the operation.




Al-Hija's father – Gamal – is one of the top Hamas representatives in the West Bank, currently serving a life sentence in prison. Among the Palestinian casualties was Mahmoud Abu Zina from the military wing of Islamic Jihad. According to Palestinain sources, several armed gunmen were also in the house, seven of which were injured in the operation and were evacuated to a nearby hospital.

The officials said on that hundreds of angry residents and gunmen then attacked the Israeli force with explosives and Molotov cocktails. Palestinian sources say two young Palestinian men died in the subsequent fighting.

Related stories:

Israeli military sources said the attempted arrest followed a months-long pursuit of the fugitive Al-Hija. The IDF surrounded his house Saturday morning after receiving precise intelligence on his location.

Security establishment officials said he was planning terror operations against Israeli civilians and IDF soldiers in the West Bank. Military sources said Al-Hija received orders directly from Hamas leadership in Gaza.

Al-Hija had been linked to at least two attacks on IDF forces in the past.

After the operation's conclusion, Defense Minister Moshe Ya'alon said that by thwarting the terror attack planned by Al-Haija the IDF "actually saved lives."

Ya'alon praised the forces which took part in the mission for their "determination and professionalism in a complex battlefield" and wished a speedy recovery to the two servicemen injured in the incident.

The Palestinian Authority, however, condemned the incident. Nabil Abu Rudeineh, spokesperson for Palestinian President Mahmoud Abbas, blamed Israel for what he called an "escalation" in the West Bank.

Rudeineh demanded the American administration act immediately "to prevent the collapse of everything" in an apparent allusion to the stuttering peace process.

Hamas was quick to lay the blame with Palestinian Authority security services. The Gaza-based terrorist organization said the PA's security services had recently tried to arrest Al-Hija on more than 20 occasions.

Crowds of demonstrators gathered in Jenin during the morning hours, demanding revenge on Israel. The funerals for the operation's casualties will begin around noon.

Businesses were shut down in the city to mourn the death of the three Palestinians.

Elior Levy and the Associated Press contributed to this report.