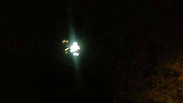 Alleged IAF attack on weapons convoy in February
The Syrian government used an escalation of hostilities between Israel and Gaza-based terrorist organizations to deliver a shipment of advanced weapons to Hezbollah, according to a Saturday report from Saudi newspaper Al Watan.

According to the report, while the IDF was attacking terror targets in the Gaza Strip, President Bashar Assad's administration transferred medium-range missiles and other military supplies to the regime's Lebanese ally.

The Saudi paper designated the equipment and supplies which passed from Syria to Lebanon as "advanced weaponry" without specifying the exact hardware transferred to the Shiite movement.

The cloudy weather conditions on those days, however, may have been the more influential factor for the weapons delivery.

Related stories:

The report further claimed, on the authority of the same sources, that the Assad regime hid an additional Israel attack on Syrian targets. The alleged attack, according to the Saudi paper, claimed the lives of 17 people. Over all, the report said, 30 casualties have been attributed to recent Israeli attacks.

Lebanon's official news agency reported that at the end of February Israeli Air Force combat jets attacked two targets on the border between Syria and Lebanon. Voice of Lebanon reported Saturday morning that the objective of the attack was a Hezbollah convoy, which was delivering advanced rockets from Syria to the organization's stores in the northern Bekaa Valley.

The Syrian government had officially acknowledged earlier in the week that one of its personnel were killed and seven injured in the Israeli attacks on Quneitra – undertaken in response to the explosive device which injured four IDF soldiers in the border area near the Druze town of Majdal Shams.

The Al Arabiya report of the initial strike said that IAF jets attacked the headquarters of the 68th and 90th Divisions of the Syrian army in Quneitra.


Syrian opposition sources reported that another military facility near the A'Salam freeway that connects between Damascus and Quneitra.