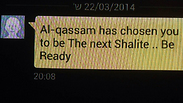 One of the threatening messages.
Threatening text messages were sent anonymously on Saturday evening to mobile phones owned by Israeli citizens on behalf of Hamas' military wing, the Izz ad-Din al-Qassam Brigades.

"A warning to Zionists. Al-qassam rockets are waiting with you. If you want the life then leave our country (sic)," the messages said in broken Hebrew.

Another message said: "Al-qassam promised in revenge, and was the revenge, and the bill is not over yet, and the next one more awful (sic)."

A third message was sent in English: "Al-qassam has chosen you to be The next Shalite .. Be Ready (sic)," referring to IDF soldier Gilad Shalit, who was kidnapped in 2006 and freed five years and four months later in a prisoners exchange deal with Hamas.

A fourth message, again in broken Hebrew: "Hamas... in the next war all country Palestine will be returned (sic)."

These messages were also sent to many government spokespersons, ministers' spokespersons and deputy ministers. It is still unclear how many citizens received these messages.

The texts were sent from different phone numbers, some starting with the code 057 and others starting with the Palestinian code 059. An attempt to call these numbers back was unsuccessful.

Related stories:

It appears that hackers were able to breech the database of israeldefense.co.il, a website dealing mostly with security, on Saturday evening, and used it to send e-mails and text messages to the site's registered users. The site also has a subscription service for its magazine, and it is yet unclear whether users' credit card details have been compromised.

The site's admin told Ynet: "We want to make it clear that the issue is being investigated by the authorities and by the israeldefense.co.il staff. The messages were sent from an outside system and not from the site. Initial investigation did not find an attack on additional site databases."

One e-mail to israeldefense.co.il users said: "Israel was founded on the injustice and on the occupation and every entity was founded on the injustice and the occupation is destined the destruction ... the Shahid Ahmed Yassin (sic)."

Another e-mail vowed that the assassination of Sheikh Ahmed Yassin in 2004 by the IAF will not be forgotten and will be avenged by "cutting your commanders' heads."

"You murdered our sheikh with your rockets, now our rockets will come to you," the e-mail said (original text in broken Hebrew, corrected by Ynetnews).

This is not the first time in which threatening messages have been sent to Israeli citizens' phones. Similar messages were also sent during past IDF military operations in Gaza.

Dozens of citizens living in southern Israel near the Gaza border, who are under constant threat of rockets, also received the threatening text messages.

"I opened my phone and I saw the message with spelling mistakes. At first I thought someone was trying to prank me, that this was a joke. I tried to call that number back but it made weird noises," a woman who lives in a kibbutz near the Gaza border said. "Afterwards, a friend called me and told me that she too received the same message. This is really scary, crazy."

"How did they even get my phone number? How is it possible that a terror organization, that keeps firing Qassam rockets at us for years as it is, can now obtain such information?" she continued. "I am really at unease about this, and someone better investigate this. There was a serious error here, someone messed up big time. I'm now considering changing my phone number, because I don't know what else they might do. Tomorrow they can hack my phone line."

The threatening texts and e-mails could be a psychological attack in retaliation for the death of three Palestinians in Jenin overnight, killed by counter-terrorism unit troops, but there has been no clear link between the two.

Mattan Tzuri and Shahar Shushan contributed to this report.