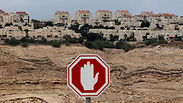 Settlement near Jerusalem
Photo: Reuters
Britain has condemned Israel's plans for some 2,300 new settlement homes in the West Bank, in a Foreign Office statement that denounced the construction as illegal and detrimental to the peace process.

A statement by Minister for the Middle East Hugh Robertson published Friday said Britain believes that Israel's settlements are "illegal under international law, undermine trust and threaten the viability of the two-state solution."

The Conservative politician warned that the move could hinder the peace talks between Israel and the Palestinians, which the British finds unacceptable.

"Nothing must detract from international efforts to secure a lasting, just and final settlement to the conflict," he said.

Related stories:

The approval of the construction tenders was confirmed last Wednesday by Guy Inbar, a spokesman for the Defense Ministry unit responsible for civilian affairs in the Palestinian territories. He said a ministry committee had furthered existing plans for 2,269 homes at a February meeting.

Lior Amihai of the leftist Peace Now organization noted that the decisions have yet to be officially published. He also told AFP that while the February committee was not the final stage of the planning process for the units, the decision to move them forward was extremely meaningful.

Last week, the Royal Institute of British Architects (RIBA) called on the International Union of Architects (UIA) to exclude the Israeli Association of United Architects over its refusal to oppose settlement construction in the West Bank.

The motion, passed after a council debate on Wednesday, said that "since the Israeli Association of United Architects (IAUA) has paid no regard to the UIA resolution 13 of 2005 and 2009, the RIBA calls on the UIA, as the international guardian of professional and ethical standards in our profession, to suspend the membership of the Israeli Association of United Architects, until it acts to resist these illegal projects, and observes international law, and the UIA Accords and Resolution 13."