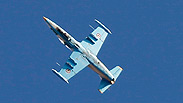 Prime Minister Tayyip Erdogan confirmed that the military shot down a Syrian jet after it violated Turkish air space near a border crossing where rebels have been clashing with President Bashar Assad's forces.

"A Syrian plane violated our airspace," Erdogan told an election rally of his supporters in northwest Turkey. "Our F-16s took off and hit this plane. Why? Because if you violate my airspace, our slap will be hard."

Turkey's armed forces shot down a Syrian plane on Sunday after it crossed into Turkish air space, Turkish broadcaster NTV reported, quoting officials.

Syrian activists said the incident occurred close to an area where Syrian rebels have been battling Assad's forces for control of a border crossing between the two countries.

Related stories:

Rebels have been on the offensive since Friday in the border area of northwestern Latakia province, where they have captured a crossing point into Turkey.

The Britain-based Syrian Observatory for Human Rights reported heavy fighting Sunday around Kasab, a town with a large Armenian community near the Turkish border.

Syrian state television quoted an unnamed military official as saying that government forces inflicted "heavy losses" among rebels. State TV says the rebels entered Syria from Turkey.

The Observatory also reported heavy fighting in the contested northern city of Aleppo, which is divided between rebel and government forces.

Reuters and the Associated Press contributed to this report.