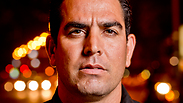 Meni Naftali
Photo: Yuval Chen, Yedioth Ahronoth
Ex-PMO employee rejects claims he is attempting to shame Netanyahu
Meni Naftali claims he was verbally abused by Netanyahus, specifically at the hands of Mrs. Netanyahu, and is suing for millions; now he responds to allegations he is driven by a desire to slander the couple, saying 'I would've taken a bullet for them'.
Meni Naftali, the former Prime Minister's Office employee who is currently suing the office and Prime Minister Benjamin Netanyahu, responds to allegations that his claims are an attempt slander the Netanyahus and extract money from them.

Naftali claims his rights as a worker were trampled on during the time he worked as the caretaker for the official Prime Minister's Residence; he had previously been employed as a body guard.

In addition to claims that Prime Minister Netanyahu's wife Sara verbally abused him, Naftali claims the residency promised a permanent position but failed to make good on its word.

Related stories:

In a conversation with his media advisor, Naftali swore he was loyal to the Netanyahus and expressed feelings of betrayal. When asked about the claim against him that the suit is just an attempt to slander and harm the prime minister and his wife, he said: "I have heard that. It's nonsense."

"It's amazing that I, who was willing to take a bullet for them, am being accused of such things now," he said in reference to allegations he was attempting extort the couple and PMO.

Naftali further rejected the claim that he was not in fact promised a permanent appointment to the caretaker position but rather only applied for it and then filed the suit after he was rejected.

"This is a lie. I never asked for a permanent position. All I asked for was that they would fulfill the promise they made me – which is that I would be an official State worker and not a subcontracted worker. As a State employee I would enjoy job security and rights, and could change positions with ease. Claims that I asked for a permanent position are just false."

Naftali, 31, served as the head caretaker at the official Prime Minister's Residence for 20 months, between February 2011 and November 2012, until he quit as a result of what he claims was the residency's failure to make good on its promise.

Naftali filed a lawsuit with the Jerusalem District Labor Court against the official residency, Ezra Saydoff who served as head of the residence's household staff, Sara Netanyahu and even the prime minister himself. He is demanding NIS 1.1 million ($316,000) from all three in addition to demanding an apology and NIS 100,000 ($28,700) in damages for slander and libel from Netanyahu himself for an interview in which he claimed that Naftali was fired, and did not quit of his own accord.

The Prime Minister's Office said in response Sunday that "the truth will come out in court."

Most of the suit, much like the Channel 2 report which first broke the story, focused on long and detailed experiences Naftali claims he and other household workers were forced to endure, specifically at the hands of Sara Netanyahu.

"In one case," his lawyers wrote in the suit, "the prime minister's wife woke Mr. Naftali (who slept in the residence) at 3 am while screaming at him for buying milk in a bag instead of a carton – as she had demanded. When the plaintiff complained at the hour and her tone, Mr. Netanyahu got involved and demanded that he do whatever Ms. Netanyahu demands, so she 'would calm down.'"

"Needless to say," the lawyers added, "that such a demand at such an hour from the prime minister is threatening."

In another case, after being instructed to bring the Netanyahu's breakfast from the Dan Caesarea Hotel, he was berated by Sara Netanyahu, who he claims invoked racial stereotypes to justify her demands.

"He was berated for bring too much food, according to Ms. Netanyahu. She rebuked the plaintiff and explained: 'We are European, we are gentle, we do not eat a lot you the Moroccans… you are stuffing us, and then when they take pictures of us abroad we look fat."

In another case described by his lawyer, Naftali claimed that Sara Netanyahu threw a vase of flowers on the floor in anger after she noticed that the flowers it held were not fresh, and screamed at him that "he was a poor manager and that such a thing would never happen at the Élysée Palace."

In response, the Prime Minister's Office said "this is nothing but pathetic gossip-mongering intent on sullying the (prime minister) and extracting money illegally from the PMO."