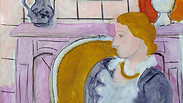 Profil Bleu Devant la Cheminée
Photo: AP
The Henie Onstad Kunstsenter (HOK), a museum in Norway, will return a Nazi-looted painting by Henri Matisse to its owners, the museum said in a statement this week.

The painting, "Profil Bleu Devant la Cheminée" (Woman in Blue in Front of a Fireplace), dated 1937, was seized by the Nazis on September 5, 1941 from French gallery owner and collector Paul Rosenberg.

Legal Battle

Renewed claims by family that used to own oil painting exhibited by University of Oklahoma draws school into a fight it thought was settled in Switzerland more than 60 years ago.

Following numerous claims of restitution by Rosenberg's heirs and an extensive investigation into the painting's origins, the museum has decided to remove the painting from display and return it to its rightful owners.

"Henie Onstad Kunstsenter's extensive investigation of the case has led to the decision that the return is justified, and HOK's board has decided to return the painting without further conditions," the museum's board of directors chairman, Halvor Stenstadvold, said.

The painting was unlawfully dispossessed after Rosenberg and his family fled Europe to New York in 1940 by the special Nazi looting agency the Einsatzstab Reichsleiter Rosenberg (ERR).

In 1942, it was used in trade by representatives of Nazi leader Hermann Goering and was acquired by a Parisian art dealer. The dealer, Gustav Rochlitz, was convicted in 1947 by a French Tribunal for trading illicitly acquired property during the Nazi occupation.

In 1950, the painting was acquired by Niels Onstad from Galerie Henri Bénézit in Paris and became a part of the HOK's collection in 1961.

"This painting has been in our collection since HOK was founded; it is a key work, important for both HOK and its patrons," the museum's director, Tone Hansen, said.

The museum stressed the painting has been acquired in good faith, and that the museum was unaware of the fact Rosenberg's heirs filed numerous restitution claims from 1946-1960, despite both the museum and Onstad himself requesting detailed provenance information on the painting.

"This case illustrates the importance of museums and cultural institutions undertaking comprehensive reviews of their collections in accordance with the Washington Conference Principles," said Christopher Marinello, a lawyer specializing in the restitution of cultural property, who handled the negotiations for the Rosenberg family.

"The HOK is to be commended for their methodological approach in reviewing the provenance documentation we presented as well as the legal issues involved. Ultimately, it was the strength of the moral claim that persuaded the HOK to restitute this painting unconditionally to the Rosenberg heirs," Marinello added.