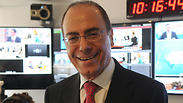 Silvan Shalom
Photo: Yaron Brenner
Energy and Water Minister Silvan Shalom was questioned under caution by police for two hours on Tuesday over claims of sexual harassment that allegedly occurred 15 years ago.

A statement by Israel Police said that the decision to question Shalom was made in accordance with Attorney General Yehuda Weinstein, following the complaint about the events in 1998.

Although Shalom was questioned under caution, the statute of limitations applies in this case to the allegations. As such, the caution is primarily to serve as clarification that his statement could be used against him at a later date, should there be further complaints that are not affected by the statute of limitations.

Related stories:

According to the allegations by a former secretary in Shalom's office, she was alone in a hotel room with the Likud politician when he, clad only in a bathrobe, asked her to sit next to him.

The accuser was given two different polygraph tests. In the first test, in which she was not asked about any sexual contact with Shalom, she was found telling the truth. In the second one, in which she was asked about sexual contact with him, she gave inconclusive answers and was found to have a tendency to lie.

Shalom's family hit back at the allegations on Tuesday, with his stepson Nimrod Nir hailing the minister as a dedicated public servant. Nir questioned the timing of the claims, given that Shalom was about to officially announce his candidacy for president.

"This man has been a public servant for more than 20 years, who has held various senior positions, has never been investigated or charged with anything, and is a devoted father of five," said Nir.

The office of Attorney General Yehuda Weinstein has confirmed that it received the complaint a week ago. In recent days, Weinstein met with senior law enforcement officials to discuss the statute of limitation on the alleged offenses, and how to proceed.