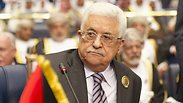 PA President Abbas at the Arab League meeting.
Photo: Reuters
Israel is not giving the peace process a chance, just taking advantage of it in order to sabotage US efforts to reach an accord, Palestinian Authority President Mahmoud Abbas accused Tuesday in a tough and pessimistic speech at the Arab League meeting in Kuwait.

Abbas claimed that Israel's positions in the negotiations just serve to reinforce its lack of desire to end "the occupation," and its desire to perpetuate and establish it.

He bemoaned the fact Israel was "adding new demands that did not exist before" - such as the demand for a Palestinian recognition of Israel as a "Jewish state" - to further sabotage the talks, asserting that the Palestinians were not willing to even discuss that demand.

Related stories:

"We want a Palestinian state with East Jerusalem as its capital based on the 1967 borders, that would be independent and have sovereignty of its own land, airspace, borders, water and resources, as well as a just and acceptable solution for the issue of the refugees," he said.

The PA president said the Palestinians were waiting for American proposals that were in accordance with international law, as well as for a "defined timeframe that is not open for interpretations."

The implementation of a peace accord with Israel, Abbas said, would have to be tied to clear international guarantees that would "bring an end to the Israeli occupation in the 1967 borders."

"We don't need a new cycle of agreements that Israel would bury under a series of conditions, reservations, explanations and interpretations," he said, adding that Israel was now trying to back out of the release of the fourth and final group of Palestinian terrorists, a commitment it made at the beginning of the current round of negotiations.

Addressing the issue of the fight over the Temple Mount, Abbas said he objects to dividing visiting time and area on the Mount between Jews and Muslims, noting there is coordination with both Jordan and Morocco on the topic.

US Secretary of State John Kerry decided to interrupt a trip to Europe with President Barack Obama on to visit the Mideast for talks with Abbas aimed at salvaging negotiations with Israel.

The State Department said Kerry would travel from Rome to Amman, Jordan on Wednesday to see Abbas, who visited the White House only last week.

Kerry would also talk to Prime Minister Benjamin Netanyahu by phone or video conference while in Amman, State Department spokeswoman Jen Psaki said.

Kerry is attempting to convince both Israel and the Palestinians not to abandon the process even if they don't meet an end-of-April target for a peace plan that they agreed to when talks resumed last summer.

Associated Press and AFP contributed to this report.