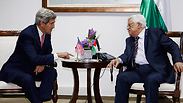 US Secretary of State Kerry meeting with PA President Abbas (Archive)
Photo: AP
Hoping to salvage foundering Mideast peace negotiations, US Secretary of State John Kerry is interrupting a trip to Europe with President Barack Obama to press Israeli and Palestinian leaders to stick with the talks beyond an April deadline.
The meetings come at a critical time in the peace talks and against a looming April 30 deadline for a settlement. But the Palestinians have threatened to walk away before then unless Israel releases a batch of prisoners as it agreed to by March 29.
The State Department announced Tuesday that Kerry will travel to Amman, Jordan, to meet with Palestinian leader Mahmoud Abbas on Wednesday. Kerry also will talk with Prime Minister Benjamin Netanyahu, likely either by telephone or video conference, in the next few days, said deputy spokeswoman Marie Harf. Kerry is currently in Rome to join President Barack Obama at a meeting Thursday with Pope Francis.
Related stories:
Israel has released 78 prisoners so far, but it has not said whether it will carry out the final release - which includes 14 Israeli Arabs - and is seeking assurances that the Palestinians will extend talks beyond April before doing so.
The Palestinians say Israel already pledged to carry out the release and are seeking additional gestures, such as the release of high-profile prisoners or a settlement freeze before extending the talks. The US has said it supports the prisoner release since it previously was agreed to between the two sides.
Harf said she did not immediately know Tuesday whether the US believes the Israeli Arabs should be released, as the Palestinians have demanded. Asked if the peace talks could fail if the prisoners are not released, she noted that both Israel and Palestinian officials agreed at the outset to negotiate through April.
"I think we're still certainly operating under that basis, and they're still negotiating in good faith under that basis," Harf told reporters. "Obviously we've said both parties have had to make courageous decisions throughout this process to keep the negotiations going, and we certainly hope that will continue."
It's all but certain that no resolution will be reached in the peace process by the deadline that was set last July. Beyond the dispute over the prisoner release, both sides are still trying to settle sharp differences at the heart of their decades-long conflict, including disputes over territorial borders, security, refugees and whether Palestinians will recognize Israel as a Jewish state.
Earlier Tuesday, Abbas accused Israel of not giving the peace process a chance in a tough and pessimistic speech at the Arab League meeting in Kuwait.
Abbas claimed that Israel's positions in the negotiations just serve to reinforce its lack of desire to end "the occupation," and its desire to perpetuate and establish it.
He bemoaned the fact Israel was "adding new demands that did not exist before" - such as the demand for a Palestinian recognition of Israel as a "Jewish state" - to further sabotage the talks, asserting that the Palestinians were not willing to even discuss that demand.
Elior Levy contributed to this report.