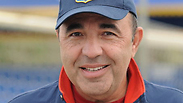 Ukrainian Jewish oligarch Vadim Rabinovich announced his intention to run for the presidency of Ukraine Tuesday, citing a need to prove Ukraine in not anti-Semitic, Interfax reported.

Rabinovich, who holds an Israeli passport and has lived in Israel, heads the All-Ukrainian Jewish Congress and is the founder of the European Jewish Parliament. He is now one of four people to announce their presidential bid for the elections set to take place May 25.

"I want to destroy the myth of anti-Semitic Ukraine that is replicated today throughout the world," he said, adding that he is "probably the most successful candidate."

Related stories:

Many, including Russian President Vladimir Putin, have said that the protests that ousted former-Ukraine president Viktor Yanukovich are anti-Semitic in nature, but Rabinovich rejects the claim.

Two weeks ago, Rabinovich and Ukraine's chief rabbi Moshe Reuven Asman decried Russia's claims about "fascists" and "neo-Nazis" being behind the political unrest in Ukraine, only two days after a prominent Ukraine rabbi was attacked in the streets of Keiv in what seems to be anti-Semitic attack.

"We called community leaders and rabbis across the country and no one mentioned any expression of anti-Semitism," said Asman. "There's a difference between nationalism and Nazism," he also pointed out.

Nonetheless, Rabbi Hillel Cohen, a prominent Ukrainian Jew, was attacked in Kiev by anti-Semites who struck him while he was on his way to visit a Jewish tourist hospitalized in the city.

Cohen told Ynet that before he was attacked the assailants called him"zyhd" (Jew), hinting that the attack was anti-Semitic.

AFP contributed to this report.