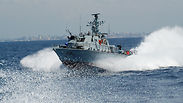 Israeli naval ship
Photo: Barel Ephraim
Israeli naval troops in the Mediterranean Sea opened fire in the early hours of Wednesday morning on suspected Palestinian smugglers travelling in two boats from Sinai to the Gaza Strip. The Palestinians said that four people on the boats had been wounded.

It is not clear what exactly the boats were carrying, but the IDF said that the boats were damaged, and that they had heard secondary explosions after they had opened fire.

During the incident, gunmen on the Gaza coast opened fire on the Israeli vessels. There were no injuries to the Israeli troops, who returned fire.

Related stories:

The incident occurred at around 3 am, several hundred meters from the Gaza coastline.

Soldiers from a nearby naval base were patrolling the area when they noticed two small boats making their way back from the Sinai coast to southern Gaza. The IDF is still unclear as to what the boats were carrying, but the secondary explosions have raised suspicions that the two vessels were carrying weapons.

The IDF called the incident a thwarted smuggling attempt, and that the troops had followed the necessary procedures as part of routine security and enforcement of the naval blockade on the Gaza Strip.

This is the second incident of this kind in a week. In the previous incident, militants fired at naval ships at sea; there were no casualties.