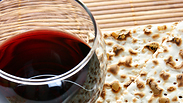 No matzah in Nepal
Photo: Shutterstock
KATHMANDU — A strike by Foreign Ministry diplomats over salaries has foiled preparations in Nepal for what coordinators say is the world's biggest celebration of the Passover holiday, organizers announced Tuesday.
Chabad organizes the Passover feast in Kathmandu every year, attracting hundreds of people, including tourists from around the world.
Related stories:
But the massive celebration on April 14 relies on the Israeli embassy in Nepal to help import supplies for the feast to the Himalayan nation.
"We have a problem, we have not been able to get any food shipments through so far for this Passover," said Rabbi Chezki Lifshitz, co-director of Chabad House Nepal.
Foreign ministry employees on Sunday ratcheted up plans for a full-scale strike at home and at diplomatic missions abroad. All 103 of Israel's embassies and missions have been closed due to the strike.
"I hope the strike will end soon, if it ends in the next three-four days, we can still try to organise the celebration like every year," Lifshitz told AFP.
Hanan Goder-Goldberger, Israel's ambassador to Nepal, defended the strike and said he hoped the dispute over pay and staff conditions would be resolved soon.
"All diplomats are entitled to a decent salary, but my colleagues from other countries get double what I get, it is not fair," Goder-Goldberger told AFP.
"I am sorry the cargo is stuck and causing a big problem for people who want to celebrate Passover... but I am optimistic we can reach agreement soon."
Around 25 years ago the embassy began to invite Israeli tourists in Kathmandu to share in a meal, kicking off an event that organizers claim is the world's largest seder.
Foreign Minister Avigdor Lieberman criticized the strike in a press conference Tuesday, saying that the action posed difficulties for Israelis stranded abroad.