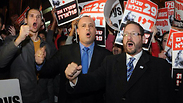 Israelis protest for Pollard's release
Photo: Yair Goldshtuf
The United States downplayed on Wednesday recent speculation that it could free convicted spy Jonathan Pollard in return for Israel agreeing to release a fourth and final batch of Palestinian prisoners.

"There are no plans to release Jonathan Pollard at the moment," said State Department spokeswoman Jen Psaki on Wednesday. "Jonathan Pollard was convicted of espionage against the United States – a very serious crime. He was sentenced to life and is currently serving his sentence."

The possibility that the US would free Pollard as part of its efforts to keep the Israeli-Palestinian peace process afloat has resurfaced in headlines in recent days.

According to the latest reports in Israel, including an item Wednesday morning on Army Radio, the potential step could be a vital move to ensure the fourth and final stage of Israel's release of long-term Palestinian terrorists as a goodwill gesture, which this time includes Israeli Arabs.

The Knesset Internal Affairs and Environment Committee was to meet Wednesday morning to discuss the Palestinian prisoner release.

Related stories:

While Pollard's release has been consistently ruled out by consecutive US administrations, media outlets speculated that the US could free him after almost 30 years in jail in a bid to prevent the looming implosion of the current US-brokered peace negotiations, and ensure Israel's release of the prisoners as demanded by Palestinian President Mahmoud Abbas, .

"There is a range of options, including the possibility of freeing Pollard in return for the Israeli Arab prisoners and the continuation of the negotiations," said a source in Jerusalem, ahead of the US announcement Wednesday.

"It's something that has been on the table for a long time and is back in the headlines because we are reaching zero hour. The issue depends primarily on the Americans. They're passed the buck in the past, but it's not clear where it stands right now."