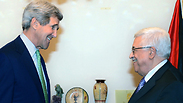 Kerry and Abbas
Photo: EPA
American Secretary of State John Kerry arrived in Jordan on Wednesday for a hastily arranged meeting with Palestinian President Mahmoud Abbas, just as Arab leaders released a communique saying they would never recognize Israel as a Jewish state.

Kerry interrupted a trip to Rome with President Obama to fly Jordan's capital, Amman, in hopes of jump-starting foundering Israeli-Palestinian peace talks, as the negotiations approach a critical April 30 deadline for a settlement. But the Palestinians have threatened to walk away before then unless Israel releases a fourth group of Palestinian prisoners, as it agreed to, by March 29.

Related stories:

Wednesday's announcement by the Arab League, blaming Israel for a lack of progress in the Mideast peace process, puts up another roadblock. The communique, issued at the end of a two-day summit, also rejects what the Arab League described as the continuation of settlements and the "Judaization" of Jerusalem.

The League's announcement that it will not recognize Israel as the homeland of the Jewish people rejects a key demand of Prime Minister Benjamin Netanyahu.

A State Department spokeswoman said Kerry also will talk with Netanyahu in the next few days.

The secretary of state is meeting with Jordan's King Abdullah II on Wednesday, before a working dinner with Abbas. Kerry will then return to Rome to join US President Barack Obama at a meeting Thursday with Pope Francis.