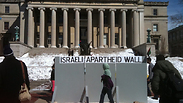 "Apatheid Wall" at Columbia University
Photo: Gilad Shai
The students union of King's College London, one of the leading academic institutes in the UK, decided to endorse the Boycott, Divestment and Sanctions (BDS) movement at its Student General Meeting on Tuesday evening.

In the successfully passed motion, the union writes that it believes "BDS is an effective tactic, which educates society about these issues, economically pressures companies/institutions to change their practices, and politically pressures the global community."

As part of the union's endorsement of the BDS movement, its members voted in favor of carrying out research into King's College London (KCL) investments, partnerships and contracted companies "that may be implicated in violating Palestinian human rights."

Related stories:

Union members also resolved to pressure KCL to divest from Israel and from companies that support "the Israeli occupation and apartheid policies," either directly or indirectly.

Union members also voted to place plaques in all of its student centers, acknowledging its support of the BDS campaign with the following text: "KCLSU officially endorses the 2005 Palestinian call for Boycott, Divestment, and Sanctions of Israel until it abides by international law and ends it illegal occupation of Palestine. KCLSU is proud to follow the example of a similar call in the 1980's, which successfully led to the end of apartheid in South Africa."

Finally, the union resolved to raise awareness of Israel's "apartheid policies and its illegal occupation" by helping the college's Action Palestine Society with printing materials and supporting events like the International "Israeli Apartheid Week."

The Israel Society at King's College London responded to the motion in a letter to the union, calling the decision discriminatory.

"A motion to boycott Israel effectively tells Israeli students and faculty that they are not welcome at KCL, simply because of their nationality. It creates a poisonous and divisive atmosphere, which can make Jewish students in particular feel very uncomfortable," the Israel Society wrote.

It also expressed concern the students union's decision to support the BDS movement threatens the legal rights of Israeli students and faculty at KCL.

Boycotts, they noted, "constitute systematic attempts to shut down constructive dialogue."

"We are greatly disturbed by the thought that our university – let alone any university - dedicated to the pursuit of truth and knowledge, could be called on to ban cooperation with the universities and cultural groups of any other country," the society wrote.

"We regard this as an outrageous assault on intellectual and academic freedom – which all student unions should zealously protect."

Calling the BDS an "odious and repulsive movement," the Israel Society charged that the BDS campaign seeks to delegitimize Israel in order to promote a one-state solution.

"The BDS campaign, draped as it is in the language of human rights, is a seemingly-innocuous façade for a campaign to delegitimize and ultimately dismantle the state of Israel," they wrote.

"Peace is not achieved by making Israel a pariah state – or destroying the Jewish state altogether," the Israel Society noted in their letter. "Peace is reached through bilateral negotiations, economic co-operation, academic collaboration, commercial relationships, healthy diplomatic ties, stands against racism of all kinds (whether it be Islamophobia or anti-Semitism), and of course, 'mutual recognition.'"

In 2006, King's College London Principal Richard Trainor rejected a proposal to boycott Israel, saying that "University institutions such as King's College London depend on freedom of speech and freedom of enquiry, which are fundamental to both teaching and research. As knowledge is worldwide, no restrictions should be placed on the location of the individuals or the institutions with which UK universities and their academics may wish to associate."

The American Studies Association voted in December 2013 in favor of an academic boycott of Israeli colleges and universities, in protest of Israeli policies towards the Palestinians. The Native American and Indigenous Studies Association and the Association for Asian American Studies also adopted the boycott.

However, some 100 American universities and colleges released statements rejecting the American Studies Association's decision to boycott Israel, and several have cut ties with the organization in consequence.