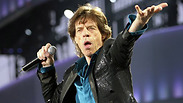 The Rolling Stones frontman Mick Jagger
Photo: AFP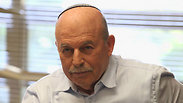 MK Slomiansky. 'There's no way of participating in this event without desecrating the holiday'
Photo: Gil Yohanan
Rolling Stones fans in Israel will finally be able to see the iconic British rock band perform in the country this summer, but the religious ones among them were quite disappointed to learn that the concert is scheduled for the evening of June 4, coinciding with the Jewish holiday of Shavuot.

Yarkon Park in Tel Aviv will open its gates to the concert-goers at 5:30 pm, three hours before the end of the holiday. The band is expected to take the stage at 8:30 pm, exactly as the holiday ends, forcing observant fans to miss a significant part of the show. Those living far away will not be able to make it at all.

Related stories:

One of the disappointed fans is Knesset Member Nissan Slomiansky of Bayit Yehudi, who wants to go to the concert with two of his daughters. On Wednesday, Slomiansky turned to the show's producer, Shuki Weiss, and pleaded with him to postpone the concert by one day or move it up by two days, in favor of the religious fans.

"It's unthinkable that such a show will cause a mass desecration of the holiday by hundreds of thousands of people," he explained. "It's illogical to force the Israel Police to work from 2 pm, operate an entire system and violate the holiday marking the giving of the Torah to the Jewish people. There is no way of participating in this mass event without actually desecrating the holiday."
'We deserve to enjoy the full show'
This isn't the first time Slomiansky launches a battle against Shuki Weiss. "Last time he tried to bring Depeche Mode on Tisha B'Av, and eventually they didn't come," the MK said. "No one would let this happen on Memorial Day. There is something wrong here. Is money the only important thing? What about our values?"

Slomiansky says he has nothing against the band, and even put on a Rolling Stones T-shirt to prove his point.

"On the contrary, it's an excellent and highly esteemed group, and I appreciate the fact that they are coming to Israel at such a time, when many others are avoiding and boycotting us. But why shouldn't religious people like me be able to enjoy the concert too?" he asks.

Another religious fan, Naama Rosen-Kreif of Givat Shmuel, expressed her anger over the date.

"If we're going to pay so much money for a ticket, we deserve to enjoy the full show," she said. "If we leave the house at 8:30 pm, with all the traffic jams, it's unclear when we will arrive, if we even make it.

"It's frustrating that we're not being considered here. There are many religious people who want to go to the concert, and it offends us."