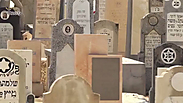 Locating graves has become an almost impossible mission in Israel
VIDEO - Visiting a cemetery can often prove to be a complicated mission, as people may spend quite a long time looking for their loved one's grave.

As the State of Israel's cemeteries grow in size, locating graves has become an almost impossible mission.

Video courtesy of jn1.tv

The Ministry of Religious Services has come up with a modern solution for the problem and will soon launch a grave-locating navigation app.

Deputy Minister of Religious Services Eli Ben Dahan has instructed his staff to start mapping Israel's graves ahead of the launch of the new application. The complicated task is expected to take several months to complete, ministry officials noted.

Some 35,000 people die in Israel every year.