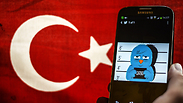 After company refused to take down problematic recordings, Turkish FM defends move to block service,
Photo: AFP
Foreign Minister Ahmet Davutoglu has defended Turkey's move to block access to YouTube, citing national security concerns.

Turkey shut down access to the video-sharing website on Thursday, after an audio recording of a government security meeting was leaked. In the recording, senior officials appeared to be discussing a possible military intervention in Syria.

Unsocial Media

Op-ed: People once argued that countries with Internet and social networks would forever be fortified democracies. The past years' events have refuted this argument.

Davutoglu said the telecommunications authority requested that YouTube take down the audio recording but the company did not remove it.

Turkey last week also suspended access to Twitter, which has been a conduit for links to recordings that suggest government corruption.

"Nothing is more important than Turkey's security, the well-being of the people or the individual rights of our citizens," Davutoglu said.

The ban on Twitter drew international criticism as a restriction on free speech.