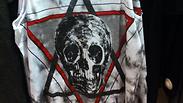 Controversial item
Photo: Twitter / Eylon_AL
VIDEO - Fashion retailer H&M has pulled a vest from its shelves worldwide after accusations its design, which featured a menacing skull in the center of a Star of David, was anti-Semitic.

The menswear item, which was withdrawn this week following complaints, was also destined for sale in Israel, where the retailer has 14 stores.

Video courtesy of jn1.tv

H&M, a Swedish company, said in a statement Friday: "We are sincerely sorry if the T-shirt print has offended anyone, it was not our intention to provoke such a reaction."

European Jewish Congress President Moshe Kantor welcomed the garment's withdrawal, calling it a "thoughtless and insensitive design."

Kantor said he hoped "that the symbols of the Jewish People will be given the same care as those of other minority groups."