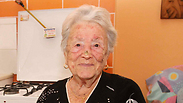 President Putin's teacher, Mina Yuditskaya
Photo: Ido Erez
Meet Mina Yuditskaya, Vladimir Putin's former high-school teacher, who now lives in Tel Aviv in an apartment her former student, the Russian president, bought for her.
In the late 1960s Mina Yuditskaya Berliner was a German teacher in High School #281 in Saint Petersburg, then Leningrad. Between 1967 and 1968, among her numerous students, there was a quiet and serious teen, who cut classes but always aced tests. After graduation he went his own way and Yuditskaya made aliyah, not imagining that their paths will cross again – until she saw him on television.
It was in the late 1990s. Her former student was standing next to then-Russian president Boris Yeltsin, and was described as the head of Russia's security service. Her former student's name is Vladimir Putin, and in the 15 years that have passed since Yuditskaya saw him, the once bashful youngster became one of the world's most powerful and controversial figures.
Yuditskaya probably couldn't foresee her student's fate when he first came back into her life on the screen of her television set. She also almost certainty didn't anticipate that she will eventually get to meet him in person, and the two would even go on to form an unusual bond.
The Russian president, currently being chastized over Russia's annexation of Crimea, met his former teacher during his visit to Israel in 2005. According to her, he even bought her the apartment she currently lives in at the heart of Tel Aviv.
During the interview conducted in her apartment, Yuditskaya, now 93, had trouble recalling the grades she gave 15-year-old Vladimir, but she has not forgotten the peculiar chain of events that led to her receiving a new apartment from the Russian leader.
"I don't really remember what grades he had in high-school, but they weren't F's – that's for sure," she said. "He was disciplined but was never chatty. In that school most of the students were interested in chemistry, but he eventually went to law school".
How did you get back in touch?
"When I heard he was coming to Israel in April 2005, I went to the Russian consulate and said that I just want the chance to look at him. I left my contact information with them, and when he came they sent a cab for me. Then I got on a bus with World War II veterans, who were going to meet with him, and we were taken to Jerusalem. When we arrived to his hotel, I was last out of the cab. I was walking into the lobby and suddenly all the lights were on me. All of the reporters turned towards me and all the veterans began to clap."
The meeting between Putin and the veterans took place around a long rectangular table, and Yuditskaya happened to find herself sitting directly across from the Russian president. "It was very exciting because I grew old and he had grown up," she reminisced.
"Afterwards he invited me to have tea with him, and I thought that was a bit strange since we were already sitting around a dinner table."
Yuditskaya was then approached by two people who took her to a side corridor. There she met Putin, who escorted her to another room. "While walking he said to me: 'I went bold already', and I answered: 'I can see that".
From the private conversation they shared over tea, Mina remembers one anecdote: Putin, according to her, had trouble understanding how Israelis deal with such hot weather. "He mentioned it's very hot here, and I said 'yes, but I'm saved by the mazgan (Hebrew for air conditioning)'. I didn't realize I had said a Hebrew word, and I could see on his face that he wanted to ask me 'who Mazgan is; who is this person who rescues me?', so I quickly explained.
"During our conversation, I behaved like a teacher talking to her student – I talked and talked and didn't give him the chance to get a word in".
Their conversation was eventually interrupted by Putin's assistant, who announced that then-Israeli president Moshe Katsav had arrived. However, Putin wasn't quick to part ways with his former teacher: When he left for his meeting, his assistants took Yuditskaya to a different room where the presidential dinner party was being held.
"Putin introduced me to Katsav as his teacher, and he immediately asked: 'How was Putin as a student?'. I just smiled and gave him the thumbs up".
A bag from the Kremlin
Ukraine, which is now at the epicenter of an international power struggle between Russia and the West, is also Yuditskaya's homeland. She was born in the city of Mena in 1921 and moved with her family to St. Petersburg when she was seven-years-old.
She began teaching in 1945 after graduating from a local linguistic institute. In 1973, she came to Israel by herself, to escape the tyranny of the Soviet regime, as she described it. Once in Israel, she began working for the Israel Air Force, but was reluctant to elaborate about her position. "It's not important", she announced.
In Israel, Yuditskaya also became a widow, and until Putin's visit in Israel, she was living in a run-down apartment in southern Tel Aviv's Florentine neighborhood. But after the meeting in the Jerusalem hotel, that was about to change, and Yuditskaya began receiving all kinds of gifts, big and small.
"Even before I left the hotel, a man came up to me and gave me a bag that said 'The Kremlin,'" she recollected. "I opened it the next day and inside was a watch and on its back was engraved 'From the president'".
A few days later Mina received a call from a man who introduced himself as an employee of the Kremlin, and notified her that soon a delivery man would come for her. As soon as she hung up the phone, she heard a knock on the door and the mysterious delivery turned out to be Putin's autobiography - "In First Person." On the inner cover, a dedication was inscribed: "To Mina, with love", accompanied by the president's signature. But all of this was just small change compared to Putin's real surprise for his former teacher.
Putin is a grateful man
Yuditskaya recalled that during her meeting with the president, he casually asked her for her address, which she wrote down for him in an elegant notebook. Later, a man rang her at home claiming Putin had sent him, and had asked him to come to her apartment.
"I did not believe him until he showed me the page from that notebook with my address in my own handwriting," she continued. "He told me the president wants to buy an apartment for me. He said, 'come, I have a few apartments to show you. You can choose'".
Yuditskaya was shown two apartments: The first, a large and lavish flat on the trendy Shenkin St. and the other, a small and modest one-bedroom apartment not far from there. "I told him that all I need is to be close to the bus stop, the doctor, and the market," she said, explaining why she opted for the modest apartment where she resides with a caregiver from Moldova.
"From this point on, everything happened very fast. In a few months the movers came, packed up everything, and moved my things into my new apartment. There wasn't much, so Putin even bought me new appliances."
Can you speculate why he did these things for you?
"I don't know, I don't want to guess, but I thank him very much for this. When I moved to this apartment I cried. Putin is a very grateful and decent man".
Do you still keep in touch with him?
"Nowadays he's too busy".
And do you have a position regarding the crisis in Crimea?
"I don't follow politics, but I would like to ask him one question: When I used to walk into class all the students used to stand up. That is what was accepted, and that was always was exciting for me. I would like to ask him how it feels when a whole country stands for you".
At the request of Ynet, Russia's Presidential Press and Information Office confirmed that "the lady you're asking about was indeed Vladimir Putin's German teacher. As for the rest of your questions, for privacy reasons, we are not able to comment."
The Russian embassy in Israel also confirmed the meeting between Putin and Yuditskaya, but none of the current staff worked there at the time and could not recollect additional details.