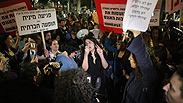 Protest to end rape culture
Photo: Motti Kimchi
Hundreds of women protested Saturday in Tel Aviv against what they say is an incompetence in handling cases of sexual assault against women. "No more silence – Now it's your turn" was the protest's slogan.

The protest was organized by a group of women, all social activists, that decided to protest against recent cases reported in the media, among them the complaint against Energy and Water Minister Silvan Shalom, who allegedly sexually harassed a woman some 15 years ago. The protesters demanded to eliminate the current statute of limitation on sex offenses.

The protesters raised signs with slogans such as "We believe you," "Enough with rape culture," "Sexual assault = Social phenomenon," "In 87 percent of sexual assaults, the victim knew her assailant." In an extreme gesture of defiance, some of the women appeared bare-chested.

The system is not prepared to deal with cases of sexual offenses against women, which is a "result of a widespread phenomenon of victim blaming," Shelly, one of the protest's organizers, told Ynet. "Everyone are busy saying 'why her and not him.' We're asking to expressed solidarity with the complaintants and say 'we believe you.' Beyond that, we are demanding to stop with rape culture. We demand a systematic change."

"We want to put an end to rape cultre and we will not stop protesting until that happens" Shelly continued.

Women in Israel today "have no safe place to protect them against sexual violence, and no proper solutions to victims of sexual assaults. Sexual assault is a traumatic event that brings with it shame, guilt, fear and helplessness. These factors must be taken into consideration in both legislation and law enforcement in Israel," organizers wrote in flyers advertising the protest.

Other than eliminating the statute of limitation, the protesters also demanded to give harsher punishment to sex offenders, as well as introduce corrective education on the matter.

"Girls, young women and adult women involuntarily learn from the media, the education system, inadequate legislation and failed enforcement, that we have to learn to defend ourselves," the flyer read.

"Instead, these systems should educate boys, teenager and grown men to take responsibility for their actions, teach them the notion of consent and anchor it in legislation. These systems should also work to eliminate gender-based discrimination, and introduce uncompromising legislation and stricter enforcement. We do not need to 'worry' about not getting raped, we need a safe and free space from sexual violence," the flyer went on to say.

"Sexual assault is a painful and an inseparable part of a woman's life; it's a trauma that stays with the victim her entire life. It's difficult and almost impossible to break the silence on this issue in general, but it is particularly hard when facing law enforcement authorities. If the victim finds the courage to complain, our responsibility as a society is to assist her in every way possible."