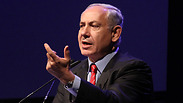 Prime Minister Netanyahu
Photo: Ido Erez
In a meeting with Likud ministers Sunday morning, Prime Minister Benjamin Netanyahu exclaimed that no more Palestinian prisoners will be released if no clear exchange will be guaranteed.

"It could be a matter of days. Either it resolves or implodes. Either way, there will be no deal without the exchange that the State of Israel receives will be clear," the prime minister said.

Netanyahu added that if an agreement will be reached, will be brought before the cabinet for approval.

Related stories:

Meanwhile, Palestinian sources quoted by the newspaper A-Sharq Al-Awsat said that the Israeli refusal to execute the fourth release of Palestinian security prisoners will not lead to any immediate steps by the Palestinian Authority.

The sources clarified that the PA prefers awaiting the results of US efforts to convince Israel to hold its commitment, and added that "the leadership does not want to enter immediate conflict and appear responsible for the breakdown of the negotiation process."

As part of the negotiations between the two sides, Israel committed to release 104 Palestinian prisoners who were jailed prior to the Oslo Accords in 1993.

The fourth batch of prisoners includes 24 prisoners, most of who were convicted of severe crimes; however, Israel has long warned that the release in question will not be executed if the Palestinians refuse to extend the talks past the original deadline date of April 29.

According to a Washington Post report, the American government is hoping to rescue the talks from failure, and diplomats quoted by the paper explained that Washington will not be able to prevent attempts to promote the status of the Palestinians in the UN if efforts to advance negotiations flounder.

Palestinian sources privy to the negotiations, quoted by the newspaper Al-Ayyam, said President Mahmoud Abbas insists on the Israeli implementation of its commitment to free the prisoners as a precondition to any deliberation on other matters.

The wife of Marwan Barghouti, a Fatah official jailed in Israel, told the newspaper Al-Hayat that during his visit to Washington, Abbas asked the Americans to work towards freeing her husband. She added that Abbas asked to free Secretary-General of the Popular Front for the Liberation of Palestine Ahmad Sa'adat and Yasser Arafat's former aide Fuad Shubaki, as well prisoners who are sick or elderly and female prisoners.

During the weekend, Palestinian Minister of Prisoner Affairs Issa Qaraqae said that "efforts are underway to solve the crisis. There is still a possibility that the prisoners will be released, maybe in the upcoming days."

Jibril Rajub, a member of Fatah's central committee, told AFP Friday that "the Israeli government has informed us through the American mediator that it will not abide with its commitment to release the fourth batch of Palestinian prisoners scheduled for tomorrow."