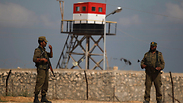 Rafah border crossing
Archive Photo: AP
A Palestinian official says Egypt has reopened its border with the Gaza Strip after weeks of closure.

Hamas' Interior Ministry spokesman, Eyad al-Bozum, says Egyptian authorities opened the Rafah border crossing Saturday after it was closed for 49 days. He says it will remain open for three days and that there are about 6,000 Gazans seeking to cross into Egypt, including patients, students and people whose residence visas are close to expiring.

Egypt has only sporadically opened the crossing for select humanitarian cases since the ouster of Egyptian President Mohammed Morsi last July.

Related stories:

The Egyptian military has imposed tough border restrictions on Gaza's Hamas rulers, who have close ties to its rival Muslim Brotherhood, including sealing smuggling tunnels and blocking passenger traffic.

The army has previously claimed it destroyed 1,370 smuggling tunnels under its border with the Gaza Strip.

The statement did not say when the tunnels were destroyed, but the military has poured troops into the adjacent Sinai Peninsula to counter militancy that has grown since July.

The tunnels, under the town of Rafah, are used to transfer food, fuel and consumer products into the densely populated Palestinian enclave.

However, Hamas and other militant groups reportedly use their own more secret tunnels to bring in arms and money.