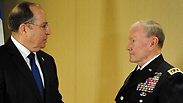 Defense Minister Ya'alon meeting with US military chief Dempsey
Photo: Defense Ministry
Defense Minister Moshe Ya'alon and IDF Chief of Staff Benny Gantz met with the US Chairman of the Joint Chiefs of Staff Martin Dempsey at a Jerusalem hotel on Sunday.

The three defense officials discussed the various security issues in the Middle East and the cooperation between the two countries.

The American military chief has arrived in Israel at a time of heightened tensions with between the United States and Ya'alon.

Related stories:

But Ya'alon and Dempsey worked to to portray business as usual in the meeting.

In brief remarks, Ya'alon said the US is "truly our best friend" and relations are central to Israel's security.

"We are in the midst of a critical week for the Israeli-Palestinian conflict, and we appreciate Secretary of State Kerry's efforts and President Obama's commitment and contribution to the effort," Ya'alon continued.

Dempsey, meanwhile, joked that his wife is upset he speaks more to Chief of Staff Gantz than to her.

Ya'alon sparked a falling-out with the US and embarrassment at home this month when he questioned Washington's commitment to Israel. Earlier, he accused US Secretary of State John Kerry of being unrealistic and naive in trying to broker Israeli-Palestinian peace.