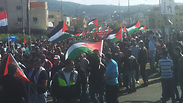 Protest in Araba
Photo: Hassan Shaalan
More than 15,000 Palestinians and Israeli Arabs commemorated Land Day on Sunday with rallies that became a show of solidarity for the release of the fourth group of Palestinian prisoners.
Protestors shouted slogans like "we will sacrifice our lives for the martyrs, we are not afraid, Israel is a terrorist state, there will be a third intifanda if the prisoners are not released."
Schools, businesses, public institutions, and medical centers in the Arab sector conducted a general strike Sunday in solidarity with the protests.
The annual Land Day demonstrations are held to remember six Israeli Arab protesters who were shot dead by Israeli police and troops during mass demonstrations in 1976 against plans to confiscate Arab land in the Galilee.
Land Day events (צילום: עידו בקר, רועי עידן)
Speaking on the issue of the prisoner release, a mother of one of the Israeli Arab prisoners said: "This matter should come to an end immediately. The Prime Minister of Israel should be ashamed that he didn't keep his word. We will continue to fight until the last minute and will not give up easily."
Related stories:
In East Jerusalem, some 70 demonstrators gathered outside the walls of the Old City by the Damascus Gate, throwing stones and chanting slogans, a police spokeswoman said, adding that the rally was quickly broken up and one person was arrested.
There were also several gatherings in the Gaza Strip, with scores of people attending a demonstration near the northern town of Jabaliya organized by Hamas.
They chanted slogans and held up banners reading: "We will return to our land, no matter how long it takes."
A demonstration near the southern city of Khan Yunis drew similar numbers, among them dozens of children holding balloons bearing the Palestinian flag scrawled with the word "Gaza".
Scattered demonstrations and sit-ins also took place in the Negev, the village of Araba in the lower Galilee and the West Bank, including in the southern city of Hebron.