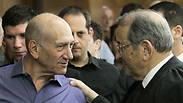 Olmert found guilty as charged
Photo: Ido Erez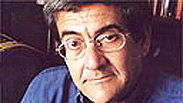 Yossi Olmert confirmed bribes were taken
Photo: Eldad Refaeli
Former prime minister Ehud Olmert was found guilty in the Holyland trial Monday by Tel Aviv District Court Judge David Rosen.
Olmert was convicted of receiving some NIS 500,000 in bribes through his brother, with the judge slamming what he described as a "corrupt political system which has decayed over years... and in which hundreds of thousands of shekels were transferred to elected officials." Only three of the 12 additional defendants were acquitted.
The verdict was originally set to be given to all defendants on Monday, but new evidence, recently provided by Shula Zaken, Olmert's former bureau chief, against her old boss, led the prosecution to request a two week postponement in order to allow Zaken to testify against Olmert.
The judge rejected the State's request, but gave them the convictions they sought, indicating Zaken's testimony was not needed to secure a conviction, in light of the testimony given by Shmuel Dachner, who served as the witness for the State prosecution. According to the verdict, "Zaken confirmed claims made by the State's witness (according to which) Olmert requested a bribe from him."
Olmert could face up to 10 years in prison when sentencing is handed down at a later date, and will appeal the verdict, his spokesman Jacob Galanti said. "It is not an easy day for Olmert," said his lawyer Roy Blecher.
"It is hard to exaggerate the severity of the actions and the damage caused to the public," said State prosecutor Yonatan Tadmor. "Every bribe giver and every bribe taker will now forever know that they are not immune."
His brother's keeper
The Tel Aviv district court handed down the verdict in the wide-ranging Jerusalem real estate scandal case related to Olmert's activities before becoming prime minister in 2006. A total of 13 government officials, developers and other businesspeople were charged in three separate schemes.
Olmert was forced to resign as prime minister in 2009 amid a flurry of corruption allegations. Monday's verdict seals the most serious legal battle the 68-year-old Olmert has been waging since he stepped down and rules out any political comeback in the near future.
According to the original 2012 indictment, millions of dollars illegally changed hands to promote a series of real estate projects, including the controversial Holyland housing development in Jerusalem that required a radical change in zoning laws and earned the developers tax breaks and other benefits.
Judge David Rozen commented on the testimony of former prime minister Ehud Olmert's brother - Yossi Olmert - who eventually implicated Olmert by confirming he received some NIS 500,000 for the prime minister; money which Olmert's former aid Shula Zaken claimed the prime minister knew was a bribe.
"Yossi Olmert attempted to distance himself from the State's witness. (However, during testimony) Yossi Olmert confirmed he received the funds," the judge wrote in the verdict in regards to the transfer of some NIS 500,000 to Olmert's brother, allegedly without Olmert's knowledge to promote the Jerusalem building project.
Rosen also rejected Olmert's testimony, and claimed the former prime minister lied in court: "Olmert's statement doesn't reflect reality – Olmert lied in court... (and) sought to sully the prosecution's witness, by lying" said Rosen.
Former Jerusalem mayor Uri Lupolianski was also convicted for his involvement in the affair. According to the indictment, Lupolianski instructed those paying the bribes to transfer more than NIS 2 million to the Yad Sara charity he was involved in in return for fast-tracking the Holyland project.
Danny Dankner, the former chairman of Israel's Bank Hapoalim, Israel's second-biggest bank, was charged with offering hundreds of thousands of dollars in bribes to a government official to rezone land for one of his businesses.
Zaken's 'gift'
The case took a twist last week, when Zaken offered supply evidence against Olmert in return for a plea bargain. Nonetheless, Zaken was also convicted of all except one of the charges brought against her and was found guilty of taking bribes as well as money laundering.
Zaken allegedly provided the prosecution with a recording in which Olmert tried to convince her not to sign a State witness deal. Olmert reportedly further urged Zaken not testify to receiving bribes from Shmuel Dachner on his behalf in return for pushing the Holyland development forward.
The judge further slammed the plea deal Zaken signed with the prosecution, according to which she would serve only 11 months in jail for her crimes, in return for a testimony against the man with whom she worked for 30 years. However, the judge chose not to hear her testimony and warned the prosecutors they would need to work hard to justify the "gift" they gave Zaken in the form of the plea bargain.
According to the deal, which the judge might reject during sentencing, Zaken will pay a NIS 100,000 fine and return gifts given to her by the Dachner; and the money laundering charges against her would be dropped.
Unholyland
Olmert has already faced a trial on separate charges of accepting illicit funds from an American supporter and double-billing Jewish groups for trips abroad. He was cleared in 2012 of the most serious charges but convicted on a lesser count of breach of trust for steering jobs and contracts to clients of business partners and got a suspended one-year sentence.
That conviction was dwarfed by Monday's.
At the center of the case was the Holyland housing development, a hulking hilltop project that Jerusalem residents long suspected was tainted by corruption.
The case broke in 2010 on the strength of a businessman, Shmuel Dachner, who was involved in the project and turned into a State's witness. Dachner died last year from an illness.
Eli Senyor, the Associated Press and Reuters contributed to this report