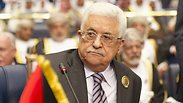 Palestinian President Mahmmoud Abbas
Photo: Reuters
Israel has handed the Palestinians a proposal aimed at extending peace talks beyond an April 29 deadline in efforts to salvage negotiations, as US Secretary of State John Kerry broke from his travel schedule for the second time in a week to return to the Middle East on Monday to discuss fragile peace talks with Israeli and Palestinian leaders.

.

"After consulting with his team, Secretary Kerry decided it would be productive to return to the region," State Department Spokesperson Jen Psaki said.

Kerry had interrupted a visit to Rome last week to go to Amman for talks with Palestinian President Mahmoud Abbas to try to convince him to prolong the talks beyond an end-April deadline and to press Israel to release the prisoners.

Officials said he was expected to travel to both Israel and the Palestinian Territories in the coming hours

According to a Palestinian official who spoke with AFP, Israel presented Abbas with a draft agreement on Sunday to push forward with the talks. Abbas was to examine the proposal, he said.

The fate of the US-brokered peace process could be decided within days, Prime Minister Benjamin Netanyahu said earlier this week, warning that "either the matter will be resolved or it will blow up".

Netanyahu's remarks to ministers from his Likud party came as US officials were working around the clock to prevent a collapse of the negotiations over a dispute about Palestinian prisoners.

"In any case, there won't be any deal without Israel knowing clearly what it will get in exchange," Netanyahu said.

An Israeli official would not provide details on the proposal but told AFP: "Now the Palestinians need to reply if they are willing to continue negotiations."

Israel failed to make good on a promise to free 26 Palestinian prisoners on March 29, a key plank in the original US-brokered terms to relaunch the peace process, citing lack of progress in talks, which Israel claims was a condition for the release.

Israel, on Friday, informed the Palestinians it would not free the, with the US State Department confirming it was working "intensively" to resolve the dispute.

The Palestinians say they will not even consider extending the talks without the prisoners being freed, but Israel has refused to release them without a Palestinian commitment to continue the talks, prompting a fresh crisis of confidence.

"The ball is now in Israel's court," Issa Qaraqaa, the Palestinian prisoners' minister, told Voice of Palestine radio, saying the leadership was expecting an answer from the Israeli government within 24 hours.

"We agreed to the fourth batch," Intelligence Minister Yuval Steinitz told reporters on Sunday, while stressing it would not happen as long as Abbas was preparing to "blow up the negotiations" the very next day.
US efforts
With the talks teetering on the brink of collapse, Washington has been fighting an uphill battle to coax the two sides into accepting a framework proposal that would extend negotiations beyond April 29.

US officials said US Secretary of State John Kerry spoke with Israeli Prime Minister Benjamin Netanyahu and later told reporters while in Paris, that it was not yet appropriate for the US to make any public judgement about the situation "at this important moment".

"It's really a question between the Palestinians and the Israelis, and what Prime Minister Netanyahu is prepared to do," Kerry said.

US State Department sources did not rule out the possibility that Kerry could fly from France to the Middle East if necessary on Monday.

Kerry said: "We'll see where we are tomorrow (Monday) when some judgements have to be made."

Under the deal that relaunched the peace talks, Israel agreed to release 104 prisoners, held since before the 1993 Oslo peace accords, in exchange for the Palestinians freezing all efforts to seek further international recognition.

So far, Israel has freed 78 of them in three batches, and the last group - which the Palestinians insist includes 14 Arab Israelis jailed for nationalist attacks - was to have been released on March 29.