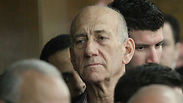 Ehud Olmert, Holyland verdict
Photo: Ido Erez
Former prime minister Ehud Olmert is not the first and probably not the last of politician to be convicted of corruption in Israel, and thus he case continues to highlight both a rotten political culture and a strong judiciary and rule of law in Israel.

Early Monday, former Israeli prime minister Ehud Olmert was found guilty of corruption in a case involving a contested real estate deal from his time as Jerusalem mayor. This is not the only graft case the former prime minister was involved in, and while he was in office, his coalition was marred with corruption scandals.

Related stories:

Olmert's former finance minister Avraham Hirchson was sentenced to five years and five month in prison after he was convicted of larceny, executive theft, fraud, breach of trust, illicitly obtaining funds, money laundering and falsifying corporate documents, and was found guilty of stealing NIS 2.5 million (roughly $625,000) from the National Labor Federation (NLF).

The judge ruled that the NLF and the affiliated Nili organization were turned under Hirchson's management "into a casino in which all the executives earned money that wasn't theirs."

Hirchson also spent some NIS 60,000 ($15,000) on 104 meals at restaurants during weekends and charged it to the NLF account; he received another NIS 53,000 ($13,000) from the same source for meals at the Knesset cafeteria, double billing his expenses.

The court found that Hirchson had falsely presented the meals as being "work-related" in order to be reimbursed by the NLF.

But Hirchson is only the first on a long list: A political meteor in his early days, Shas leader Aryeh Deri was considered one of Israel's most powerful men until a 1997 criminal conviction - with moral turpitude - and subsequent prison sentence forced him to temporarily step out of political life.

Deri was convicted of taking $155,000 in bribes while serving as interior minister and eventually served two years of a three year sentence. He was reinstated as leader of Shas on October 2012 after a thirteen-year hiatus.

Another prominent Shas MK who was convicted of corruption is Shlomo Benizri who was found guilty of accepting bribes, breach of trust, conspiring to commit a crime and obstruction of justice, as well as accepting favors worth millions of shekels from his friend and contractor Moshe Sela, in exchange for inside information regarding foreign workers scheduled to arrive in Israel.

In late 2008, a court sentenced him to 18 months in jail and a later Supreme Court ruling upheld the decision and prolonged Benizri's jail time to 4 years.




An additional example of corruption in the highest political ranks of is Prime Minister Ariel Sharon: During the latter part of his career, Sharon was investigated for alleged involvement in a number of financial scandals, in particular, the Greek Island Affair and fundraising irregularities during the 1999 election campaign.

In the Affair, Sharon was accused of promising to help Israeli businessman David Appel in his development project on a Greek island in exchange for large consultancy payments to Sharon's son Gilad. Sharon was foreign minister at the time and the charges were later dropped due to lack of evidence.

On December 2005, the police announced that they had found evidence of a $3 million bribe paid to Sharon's sons but shortly after the announcement, Sharon suffered a stroke.

In 2006 his son Omri became involved in a scandal relating to Likud fundraising for his father's 1999 Likud leadership campaign. Later that year Sharon the son agreed to plead guilty to the charges as part of a plea deal with State prosecutors and was sentenced to nine months in prison, a nine-month suspended sentence, and a fine of 300,000 NIS.

Continuing the sordid list of corrupt political leaders is former prime minister Ehud Barak. A year after losing the 2001 prime-ministerial election to Sharon, Barak launched Ehud Barak Ltd., an international consultancy firm. Barak appeared before a State Comptroller's Office to respond to questions regarding his move to transfer the company to his daughters upon becoming defense minister.

Last but not least on the list of politicians whose name has been connected to white collar offences is Prime Minister Benjamin Netanyahu. In 2011, a Channel 10 report claimed that the prime minister accepted funding from private businessmen for trips for himself and his family while in public office.

The report claimed that the Netanyahus had double billed a single trip to the United States in September 2006, and in August 2006, during the Second Lebanon War, a trip to London taken by Netanyahu, his wife Sara and one of their sons was also doubled billed by both the Knesset and by Israel Bonds. Donors also allegedly funded other trips of the couple abroad.
Sex crimes
Sadly, in recent years many Israeli politicians were convicted of sexually related crimes, including rape. The most prominent example is former president Moshe Katzav who was charged with sexual harassment and convicted of two rape counts as well as obstruction of justice. Katsav, the only Israel president ever to be convicted of a crime, was sentenced to seven years in prison. He has yet to be released.

Yitzhak Mordechai, a former defense minister, once a rising star in Israeli politics was sentenced to an 18-month suspended jail term in 2001 after being convicted of two counts of sexual assault during his 32-year army career.

Like his predecessor, Haim Ramon, a former justice minister who was also once touted as a possible future prime minister, was convicted of sexual misconduct in 2007 for forcibly kissing a woman soldier who served in the office of then-prime minister Olmert. He was sentenced to community service and returned to politics, serving in Olmert's cabinet and as a lawmaker until June 2009 when he retired.

Reuters contributed to this report