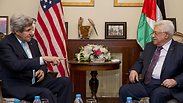 US Secretary of States Kerry and PA President Abbas in Jordan
Photo: AP
The Palestinians have rejected an Israeli proposal to extend the crumbling peace talks beyond April 29, saying it was akin to "blackmail," an official in Ramallah told AFP on Monday.
"Israel is practicing a policy of blackmail and linking its agreement to releasing the fourth batch of prisoners with the Palestinians accepting to extend the negotiations," the official said following a late-night meeting between the two sides and US envoy Martin Indyk.
The Israeli proposal, the Palestinian source said, "included the release of 420 other prisoners chosen by Israel, not including those convicted of serious crime, sick prisoners, women, children or leaders like Marwan Barghouti and Ahmad Saadat."
This offer also included a partial settlement freeze, but not in East Jerusalem or for tenders already launched, the sources said.
Related stories:
A source close to the talks told Reuters that under the proposed arrangement to extend peace talks, Jonathan Pollard, a former US Navy analyst caught spying for Israel in the 1980s, could be released by mid-April.
But the White House said it had no new information to offer on Pollard.
"He is a person who is convicted of espionage and is serving his sentence, and I don't have any update on his situation," White House spokesman Jay Carney told reporters when asked whether Pollard's release was something that could be offered as an incentive to Israel.
US Secretary of State John Kerry broke from his travel schedule for the second time in a week to return to the Middle East on Monday to discuss fragile peace talks with Israeli and Palestinian leaders.
"After consulting with his team, Secretary Kerry decided it would be productive to return to the region," State Department Spokesperson Jen Psaki said.
Kerry, who flew to Israel from Paris, held talks in Jerusalem with Prime Minister Benjamin Netanyahu and was expected to see Palestinian Authority President Mahmoud Abbas in Ramallah, in the West Bank, early on Tuesday.
The focus of his mission appeared to have shifted from reaching an elusive framework agreement by April 29, including general principles for a final peace accord, to simply keeping both sides talking beyond that previously set deadline.
Kerry had interrupted a visit to Rome last week to go to Amman for talks with Abbas to try to convince him to prolong the talks beyond an end-April deadline and to press Israel to release the prisoners.
Officials said he was expected to travel to both Israel and the Palestinian territories in the coming hours
The fate of the US-brokered peace process could be decided within days, Netanyahu said earlier this week, warning that "either the matter will be resolved or it will blow up".
Netanyahu's remarks to ministers from his Likud party came as US officials were working around the clock to prevent a collapse of the negotiations over a dispute about Palestinian prisoners.
"In any case, there won't be any deal without Israel knowing clearly what it will get in exchange," Netanyahu said.
According to a Palestinian official who spoke with AFP, Israel presented Abbas with a draft agreement on Sunday to push forward with the talks. Abbas was to examine the proposal, he said.
Israel did not make good on its commitment to free 26 Palestinian prisoners on March 29, a key plank in the original US-brokered terms to relaunch the peace process, citing lack of progress in talks, which Israel claims was a condition for the release.
Under the deal that relaunched the peace talks, Israel agreed to release 104 prisoners, held since before the 1993 Oslo peace accords, in exchange for the Palestinians freezing all efforts to seek further international recognition.
So far, Israel has freed 78 of them in three batches, and the last group - which the Palestinians insist includes 14 Arab Israelis jailed for nationalist attacks - was to have been released on March 29.
Israel, on Friday, informed the Palestinians it would not free the, with the US State Department confirming it was working "intensively" to resolve the dispute.
The Palestinians say they will not even consider extending the talks without the prisoners being freed, but Israel has refused to release them without a Palestinian commitment to continue the talks, prompting a fresh crisis of confidence.
"The ball is now in Israel's court," Issa Qaraqaa, the Palestinian prisoners' minister, told Voice of Palestine radio, saying the leadership was expecting an answer from the Israeli government within 24 hours.
"We agreed to the fourth batch," Intelligence Minister Yuval Steinitz told reporters on Sunday, while stressing it would not happen as long as Abbas was preparing to "blow up the negotiations" the very next day.