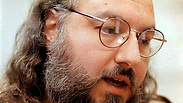 Jonathan Pollard
Photo: AP
The release of Jonathan Pollard, who is serving a life sentence in the United States for spying for Israel, was "on the table" as a possible element in a Middle East peace deal, American sources close to the negotiations said Monday.
In return for such a release, Israel would have to undertake significant concessions to the Palestinians. Such concessions could include some kind of freeze on Israeli settlements in disputed territory, the release of Palestinian prisoners beyond those Israel has already agreed to and a guarantee that Israel would stay at the negotiating table beyond an end-of-April deadline.
Some of Prime Minister Benjamin Netanyahu's far-right partners in his governing coalition have come out against any wider release of Palestinian prisoners, but Pollard's freedom could mute their opposition.
The sources, who spoke as US Secretary of State John Kerry prepared to meet Prime Minister Netanyahu and Palestinian Authority President Mahmoud Abbas, said under the proposed arrangement that Jonathan Pollard could be released by mid-April, before the Jewish holiday of Passover, which begins in two weeks' time.
Related stories:
The person cautioned that such a step by the United States - which would be a dramatic turnaround from previous refusals - was far from a done deal and that discussions with Israel on the matter are ongoing. The person spoke on condition of anonymity because he was not authorized to discuss the negotiations on the record.
The White House, meanwhile, declined to confirm or deny the report, merely saying it had no new information on the convicted spy.
"He is a person who is convicted of espionage and is serving his sentence, and I don't have any update on his situation," White House spokesman Jay Carney told reporters when asked whether Pollard's release was something that could be offered as an incentive to Israel.
State Department spokeswoman Jen Psaki, who denied reports last week that Pollard might go free, gave a less emphatic response when asked about the latest prospects for his release.
"Jonathan Pollard was convicted of espionage and is serving his sentence. I do not have any update for you on his status," she said.
Pollard could be released from prison on November 21, 2015 - 30 years after his arrest - because he was convicted and sentenced before the abolishment of parole in the federal prison system. He has been serving his sentence at a facility in Butner, NC.
The long and winding road
Pollard, a Jewish American, was a civilian intelligence analyst for the US Navy when he gave thousands of classified documents to his Israeli handlers. He turned to the Israelis to offer the classified information, and was subsequently recruited to pass along US secrets including satellite photos and data on Soviet weaponry in the 1980s. He was arrested by FBI agents in Washington in 1985 after unsuccessfully seeking refuge at the Israeli Embassy in Washington. He pleaded guilty to leaking classified documents to Israel and received a life sentence. US President Barack Obama and his predecessors have refused to release Pollard despite pleas from Israeli leaders.
Ahead of his trip to the Middle East last March, Obama told Channel 2 that Pollard "is an individual who committed a very serious crime here in the United States."
"He's been serving his time," Obama said. "I have no plans for releasing Jonathan Pollard immediately but what I am going to be doing is to make sure that he, like every other American who's been sentenced, is accorded the same kinds of review and the same examination of the equities that any other individual would provide."
The president said at the time that he recognized the emotions involved in the situation. But he added, "As the president, my first obligation is to observe the law here in the United States and to make sure that it's applied consistently."
Israeli prime ministers have long appealed to US presidents to pardon Pollard, now 59. Netanyahu said he raised Pollard's case in his White House meeting with President Barack Obama on March 3.
Various suggestions for deals for Pollard's release have been floated over the years, and they were raised again last week in the Israeli press.
Many Israelis believe Pollard received a punishment that did not fit his crime. He has been kept in prison longer than other spies convicted in the United States and is due for parole next year.
Stiff opposition from the American military and intelligence community has deterred the White House. Intelligence officials have argued that his release would harm national security and that the US must maintain a strong deterrent to allies by warning them of the consequences of spying on American soil.
But there are signs that that resolve may be softening. In recent years, former secretaries of state Henry Kissinger and George Schultz, along with prominent figures such as Sen. John McCain and former CIA Director R. James Woolsey, have all called for Pollard's release.
Netanyahu has sought to link a Pollard release to peace talks before. During his first term as prime minister, Netanyahu pressed the issue as part of a 1998 interim deal with the Palestinians. President Bill Clinton rejected that request after fierce opposition from US intelligence officials.
Also during Netanyahu's first term, in the late 1990s, Pollard, an American Jew, was granted Israeli citizenship. While Netanyahu was out of office, he visited Pollard in prison. In 2011, Netanyahu formally appealed to the US for the release and made a personal plea to allow him to attend his father's funeral. The US denied those requests.
Reuters, the Associated Press contributed to this report.