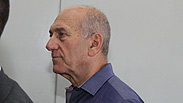 Ehud Olmert
Photo: Ido Erez
The judge may have refuted their client's version of events point by point, but the lawyers of former prime minister Ehud Olmert, who was convicted of bribery Monday morning, are certain he is innocent. They even hinted they will appeal the conviction: "This is a hard, sad day from our point of view, but this is not the end."

The lawyers admitted that they were shocked by Judge David Rosen's verdict, which determined that Olmert took bribes and that he lied in court. "The verdict fell on us like thunder on a clear day, surprising the defense team," they said.

The former prime minister's legal representatives stressed that "even now after the verdict was announced, the evidence and the facts presented to the court are sufficient to acquit Olmert completely."

Olmert's lawyers were keen to remind journalists that state witness Shmuel Dachner passed away before completing the defense's cross-examination: "The court acquitted Olmert of two charges and convicted him of two others, based on the testimony of the state witness, without affording us the opportunity to question him on his version of events in these two cases."

Related stories:

They emphasized that "in both of these cases, we are looking at charges that do relate to Olmert taking money into his own pocket."

After the plea bargain signed by the state prosecutor with Shula Zaken, the police decided not to rush to invite Olmert in for investigation, preferring to first learn what the sentence will be. In the offices of Lahav 433 – Israel's crime fighting umbrella organization within the police – employees expressed satisfaction that Judge Rosen agreed almost point by point with the results of their investigation,

The investigative unit always supported state witness Dachner, as well as the supporting evidence which managed to get the conviction in the case. Yet, not everyone was pleased with the latest development in the Holyland affair – the plea bargain with Zaken.

After the verdict, police investigators chose to take their time with Olmert's investigation. Until Sunday the police considered inviting the former prime minister for a rush interrogation if the judge had agreed to the state prosecutor's request for a delay in the trial. But on Monday the picture had changed dramatically.

The chief of the investigation unit and senior officers asked for time to read the verdict in full, and will not rush to interrogate the former prime minister for tampering with the case.

The police may demand Zaken bring forward a new affair in order to further the investigation, as Judge Rosen hinted, "something related to cleaning the stables."

"We have no reason to hurry and invite Olmert in," said a senior officer in the police force, "As we see it, the police proved how professional it is and how far it has gone in reach the truth."

Eli Senyor contributed to this report.