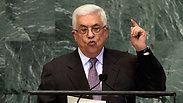 Palestinians issued a 24-hour ultimatum Monday to US Secretary of State John Kerry: Resolve the dispute with Israel on release of prisoners or the Palestinian Authority will resume its campaign for international recognition.

"If we don't get an answer from John Kerry on the prisoners tonight, we'll begin to ask for membership in all UN agencies tomorrow," Palestinian parliamentarian Mustafa Barghouti told AFP after a top-level leadership meeting in Ramallah, which took place as Kerry arrived in Israel.

The latest round of US-led negotiations between the long-time adversaries are teetering on the brink of collapse after Israel refused to free a group of 26 Palestinian prisoners under the agreement reached by Kerry, which brought the sides back to the negotiating table in July of last year.

Related stories:

Furious Palestinian officials have warned that if Israel did not change its stance on the prisoner releases, it could signal the end of the talks.

Another Palestinian official who attended the meeting in Ramallah told AFP that "the Israeli government violated the agreements and must bear the consequences of its decisions".

The two Palestinian officials also said that the leadership had confirmed there was "no link between the release of Palestinian prisoners and the extension of negotiations".

Top officials also agreed there would be no extension of talks without a "comprehensive" freeze on settlement construction in the West Bank and East Jerusalem, they said.

The peace talks, which have so far yielded no significant results, are due to draw to a close on April 29 and American diplomatic efforts are currently focused on getting the parties to agree an extension.

Kerry arrived in Israel on Monday evening from Paris for a flying visit and was locked in talks with Prime Minister Benjamin Netanyahu ahead of a late-night meeting with Palestinian Authority President Mahmud Abbas.

He was to return to Europe on Tuesday morning, officials said.