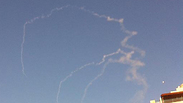 Numerous residents of Eilat reported sounds of explosions at around 7:30 on Tuesday morning, apparently caused by a false interception by the Iron Dome missile defense system.

The IDF initially said that they were looking into the possibility that three rockets had been fired at the southermost city in Israel.

Further investigation, however, showed that there had been no attacks, and that Iron Dome had in fact erroneously activated.

Related stories:

"An interception was launched by the Iron Dome system," the IDF said. "This was apparently a false interception, and the matter is under review."

Military sources also confirmed that there had been no attack on Israeli territory.

Amid the reports of explosions, a plane en route to Eilat was redirected away from the city, and passengers at Eilat airport were evacuated to protected spaces.

Iron Dome was deployed around Eilat last month, after the IDF discovered the cache of long-range rockets aboard the Klos C weapons ship from Iran, which was intercepted as it made its way to Gaza.