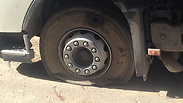 Slashed tire - "Price tag" vandalism
Photo: Zayed Artul
The words "America is Nazi Germany" and "price tag" were spray painted on a wall of a Catholic monastery in Deir a-Rafat village close Kibbutz Tzora near Beit Shemesh on Tuesday morning. The tires of four vehicles were also slashed.

Police spokesman Micky Rosenfeld said police were investigating and searching for suspects.

The incident is the latest in a string of similar attacks, known as "price tag" attacks as they "exact a price" from local Palestinians or Israeli security forces for any action taken against the settlement enterprise.

Related stories:

Two months ago, the words "buy just from Jews" and "price tag" were spray painted on a nursery in the Arab town of Kfar Qassem, and property worth thousands of shekels was destroyed.

A month earlier, some 30 cars had their tires slashed and anti-Arab graffiti was sprayed on walls in an East Jerusalem neighborhood.

An additional attack took place in Deir Aistia, south of Qalqilya, in January. Apparently, vandals lit a fire at the base of a mosque door and the words "Arabs out!" were spray painted on the door.

According to the United Nations, Israeli security forces have largely failed to stem the attacks in which assailants cut down trees, deface mosques and beat Palestinian farmers. Israeli leaders across the spectrum have repeatedly denounced the attacks, and Defense Minister Moshe Ya'alon even branded them "outright terrorism". The IDF says its soldiers are under strict orders to stop them.