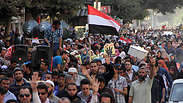 Muslim Brotherhood supporters in Egypt
Photo: Reuters
British Prime Minister David Cameron has ordered an "urgent" inquiry into the activities of the Muslim Brotherhood in the UK, the British media reported Tuesday.

According to the Guardian, a Downing Street source confirmed the reports, and told the newspaper that the probe would cover claims that the Muslim Brotherhood was responsible for the killings of three tourists in Egypt earlier this year, and whether the organization had planned "extremist activities" from British soil.

Related stories:

"The prime minister has ordered a review to get a better understanding of the Muslim Brotherhood and its values – and look into its

alleged links to extremism," the paper quoted the source as saying.

The Times of London said that MI6, Britain's foreign intelligence agency, will look into the accusations of a link between the group and the murder of the three tourists, while MI5, the domestic intelligence service, will investigate the number of senior Brotherhood officials in Britain following Morsi's ouster.

The Brotherhood, an Islamist movement with strong ties to Gaza rulers Hamas, took power in Egypt's elections following Hosni Mubarak's overthrow in February 2011, with party member Mohamed Morsi becoming president in June 2012. But growing dissatisfaction and days of protests against the group in the summer of 2013 led to military intervention and Morsi's removal. The organization was outlawed in Egypt and Saudi Arabia last month, with Egypt cracking down on all activity by the group.