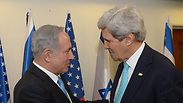 Netanyahu and Kerry
Photo: Amos Ben Gershom, GPO
Convicted spy for Israel Jonathan Pollard will be freed from a US jail before Passover, which begins April 14, a senior Israeli source familiar with ongoing peace negotiations with the Palestinians said Tuesday. The deal would also see hundreds of Palestinian prisoners released by Israel and the Palestinians agreeing to extend talks into 2015.
The steps are part of a new proposal by Secretary of State John Kerry to resuscitate the US-brokered negotiations between Israel and the Palestinians.
According to the details of the proposal, published Tuesday by the Palestinian news agency Ma'an, Israel will expand the currently on-hold fourth and final release of Palestinian prisoners from 26 to several hundred, including senior Palestinian officials jailed in Israel. The four releases, each of 26 long-term prisoners involved in deadly terrorist attacks against Israelis, were a goodwill gesture by Israel announced at the start of the talks last summer.
Related stories:
Ma'an also said that Israel would agree to a "quiet freeze" in settlement construction in the West Bank, although not in Jerusalem, which would hold until the end of this year.
Kerry met with Prime Minister Benjamin Netanyahu on Tuesday morning for the second time in less than 12 hours, in an effort salvage the stalled peace talks.
Kerry broke into his travel schedule on Monday for a flying visit to Jerusalem and headed back to Europe again after his early morning discussions with Netanyahu.
A Palestinian official said Kerry might return to the region once more late Wednesday to see Palestinian President Mahmoud Abbas. Their scheduled late-night meeting Monday was cancelled after the Netanyahu talks dragged on too late, US officials said, with Kerry instead meeting at his Jerusalem hotel with Palestinian chief negotiator Saeb Erekat.
The negotiations appeared on the brink of collapse at the weekend, when Israel chose not to press ahead with the promised release of the 26 Palestinian prisoners. Israel wanted assurances the Palestinians would not abandon the talks, when the initial deadline for an accord expires on April 29.