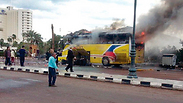 2004 Sinai Taba bombing
Photo: Reuters
Israelis should carefully weigh their destinations of choice for the Passover holiday, the Counter-Terrorism Bureau said Tuesday, issuing a renewed travel advisory that includes Sinai, Malaysia and Turkey.

The advisory said that the Jewish holiday season can serve as a premise for all terror organizations to carry out terror attacks against Jews and Israelis abroad. The bureau stressed that though there were no new warnings, the information was solid and reliable, and showed a real threat. All in all there are 41 travel warnings.

Aside from the standard warnings against visiting enemy states such as Iran, Iraq, Syria, Yemen, Sudan and Libya, the advisory also recommends avoiding places traditionally popular with Israelis, such as Jordan, Turkey and Morocco.

This year the bureau stressed the need to avoid the Sinai Peninsula, once the common choice for Israelis at Passover. It recommended not only the need to avoid traveling there, but also called on those already there to leave the area immediately.

The advisory named four countries - Algeria, Tunisia, Djibouti and Mauritania – where there is a concrete and very serious threat to Israelis, and strongly suggested that Israelis already traveling there to leave as soon as possible.

It also named six countries where there is a concrete threat - Kuwait, United Arab Emirates, Qatar, Egypt and Jordan.

The bureau's advisory also recommends avoiding traveling to distant, apparently exotic places such as Mali, Indonesia, South Thailand, Pakistan, Ivory Coast, Togo and Burkina-Faso.

For the rest of the world, the Counter-Terrorism Bureau recommends that Israeli travelers be alert and avoid unexpected meetings in deserted places. Furthernore, the bureau says, those staying in one place for a long period of time should vary their daily routines.