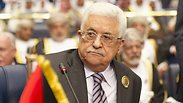 Palestinian President Mahmoud Abbas
Photo: Reuters
Abbas signs appeals to UN bodies, in sign of collapsing peace talks
Despite reports of looming deal, Kerry-Abbas scheduled meeting canceled; Palestinian president announces Palestinians going to international organizations in hint talks are collapsing. 'All we get from the Israeli government is talk,' he says.
Palestinian President Mahmoud Abbas said Palestinians are "immediately" resuming their bid to win further UN recognition and signed applications for 15 UN agencies and conventions.

Abbas' surprise move late Tuesday and could derail US-brokered peace talks with Israel.

Abbas announced the move Tuesday in wake of a meeting with US Secretary of State John Kerry who is currently attempting to salvage peace talks.

A senior source told Ynet that the meeting between Abbas and Kerry scheduled for Wednesday was canceled. A senior State Department official confirmed the report, saying that Kerry had called off the meeting in Ramallah for last-minute talks on extending peace talks with Israel.

"We are no longer travelling tomorrow. We are in close touch with the team on the ground," the official said.

Related stories:

Already faltering talks hit a rough patch after Israel failed to free the fourth and last group of Palestinian prisoners. As part of the attempts to save the talks the US has been working on a deal according to which Israel would release more than 400 prisoners in return for US-spy Jonathon Pollard, but now it seems the proposal – assumed to be a done deal – has fallen apart.

During a meeting of the PLO's leadership, Abbas announced that he had signed documents that the PA would use to petition the UN for further recognition because Israel failed to keep its word.

"The Palestinian leadership has unanimously approved a decision to seek membership of 15 UN agencies and international treaties, beginning with the Fourth Geneva Convention," Abbas said during the televised meeting in Ramallah.

"We are not doing this against the US. If Israel does not release the prisoners, we will go to the UN. This is our right. All we get from the Israeli government is talk. It was supposed to meet this evening to decide on the release but it did not... We want to see a Palestinian state living side by side to Israel."

"We don't see any reason not to go and sign these agreements, with the knowledge that we are on the path to reaching an agreement through talks and through peaceful popular resistance," Abbas said.

A Palestinian official insisted that Abbas was not abandoning negotiations with Israel.

"He have told the Israelis to stop playing their games," the official told Reuters, speaking on condition of anonymity. He added that Abbas had been "very disappointed" that all the prisoners had not been released.

Another source involved in the issue told Ynet that that the reason for the collapse in the talks is Israel's failure to free the prisoners: "Promises need to be respected, and Israel's failure to free the fourth group of prisoners have pushed the Palestinians to join the international organizations."

Earlier PA officials expressed anger at the reported proposal, lamenting it did not include the release of jailed Palestinian leaders Marwan Bargouti and Ahmed Saadat.

Abbas further slammed what he called Israeli foot-dragging in peace talks and reports claimed he had canceled his meeting with Kerry scheduled for Wednesday.

The Ramallah leadership was to meet again on Tuesday evening to discuss Israel's position on freeing the prisoners, a senior official told Voice of Palestine radio, but slammed the connection to Pollard.

"We completely reject any link between Pollard and the release of our prisoners or with the extension of negotiations. As for extending these talks, we must be clear that the release of prisoners is completely unlinked to the negotiations," Palestinian spokesperson Jami Shehada said.
Kerry's mission
On Tuesday it was announced that Kerry will return to the Middle East on Wednesday to continue his push to salvage Israeli-Palestinian peace talks.
The State Department had said Kerry will visit Israel and the Palestinian territories, meeting with Abbas in Ramallah. However, as mentioned previously, a US official said that the Ramallah trip would not now go ahead.
Kerry already met with Prime Minister Benjamin Netanyahu this week in Jerusalem.
Separate sources close to the negotiating teams confirmed that Washington is considering a proposal to release Pollard as a way to break the deadlock.
Pollard was arrested in Washington in 1985 and sentenced to life imprisonment for spying on the United States on behalf of Israel.
"The emerging deal ... contains the following elements: the release of Jonathan Pollard before the Passover holiday (in mid April) and the extension of the negotiations with the Palestinians into 2015," one of the sources told AFP.
He said the fourth batch of prisoners would be freed – "including Israeli Arabs" – and Israel would also agree to free another 400 security prisoners not involved in deadly anti-Israeli attacks.
The release of Palestinian citizens of Israel jailed for nationalist attacks has been bitterly opposed by many within Netanyahu's ruling right-wing coalition.
The proposal would include a limited freeze on settlement construction, with Israel adopting "a policy of restraint with (West Bank) government tenders" but would not include annexed East Jerusalem.
There was no immediate comment from the Americans. State Department spokeswoman Jen Psaki had on Monday refused to be drawn on the issue.
US officials insist things are moving, saying only that there are a lot of complex pieces to put in place.
The Palestinians on Monday gave Kerry a 24-hour deadline to come up with a solution to the prisoner row, warning that a failure to do so would see them turning to UN bodies to press their claims for statehood.
A Palestinian source said there had been no new developments from Kerry's meeting with chief negotiator Saeb Erakat on Monday.
"The meeting did not produce any results because of Israel's insistence on a Palestinian agreement to extend negotiations until the end of the year in exchange for the fourth contingent of prisoners," he said.
Atilla Shmolfavi, the Associated Press, AFP and Reuters contributed to this report.