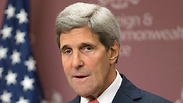 US Secretary of State John Kerry
Photo: AP
US Secretary of State John Kerry said on Tuesday it was too early to draw conclusions about the prospects in peace talks between Israel and the Palestinians, saying "a lot of possibilities" were in play and that no deal regarding prisoners has been signed.

Commenting on reports that Palestinian President Mahmoud Abbas has begun to further the Palestinians' bid for UN recognition, a move that could end US-brokered peace talks with Israel, Kerry said: "None of the papers Abbas signed were for the UN."

Related stories:

Abbas said earlier that Palestinians are "immediately" resuming their bid to win further UN recognition and signed applications for 15 UN agencies and conventions, in a move which could indicate peace talks have come to an end.

Abbas announced the move Tuesday in wake of a meeting with Kerry, who is currently attempting to salvage peace talks, and in wake of Israel's faliure to free a group of Palestinian prisoners it had committed to release as part of peace talks.

Nonetheless, Kerry attempted to play to down the day's event and said that "it is completely premature to draw any kind of judgment about today's events and where things are."

He said Abbas gave him his word he would continue talks until their April deadline, and that the papers Abbas signed were not intended for the UN.

"Even tonight, both parties say they want to continue to find a way forward," Kerry told reporters after meeting his NATO counterparts in Brussels to discuss the crisis in Ukraine.

A halt in Palestinians' attempt to attain international recognition was Israel's precondition for renewing talks. Thus Abbas' move could be seen to come in response to Israel's failure to make on its promise to free the prisoners.

As part of the attempts to save the talks the US has been working on a deal according to which Israel would release more than 400 prisoners in return for US-spy Jonathon Pollard, but now it seems the proposal – assumed to be a done deal – has fallen apart.

Regarding the possible release of Pollard or Palestinian prisoners, Kerry said "No deal has been reached regarding any prisoner… there is no agreement at this time."

He further noted that his team was working with both parties in an attempt to keep the process moving.

A senior source told Ynet that the meeting between Palestinian President Mahmoud Abbas and US Kerry scheduled for Wednesday was canceled. A senior State Department official confirmed the report, saying that Kerry had called off the meeting in Ramallah for last-minute talks on extending peace talks with Israel.