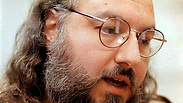 Jonathon Pollard could tear coalition apart
Photo: AP
A number of government ministers and coalition members announced they would not support a deal to free Palestinian prisoners – even if included convicted US-Israeli spy Jonathon Pollard.

Faltering peace talks have already taken a strain on Prime Minister Benjamin Netanyahu's coalition, but the recent crisis regarding the release of Palestinian prisoners could tear his one-year-old center-right coalition to bits and pieces.




After Israel failed to free the fourth and final groups of Palestinian prisoners, the Palestinians threatened to abandon talks, prompting US Secretary of State John Kerry to make a regional visit and place a new proposal on the table.

Related stories:

According to the new deal, Israel would release more than 400 prisoners and agree to a quiet freeze in settlement construction in return for Pollard and a continuation of talks.

During his speech Tuesday evening, Kerry hinted that many of the choices involved in the peace process entail a heavy political price, and it seems he was right with at least four Cabinet members stating they would not support any such deal, balking at the idea of releasing additional prisoners.
Naysayers
Earlier Tuesday Deputy Foreign Minister Ze'ev Elkin and Coalition Chairman Yariv Levin, both members of the Likud, described the deal to release prisoners and freeze settlements as a "red line."

Similar comments were made by Transportation Minister Yisrael Katz and deputy Defense Minister Danny Dannon, who reiterated that they would object to any deal that would include the release of Israel-Arabs – a Palestinian demand that rightwing MKs have balked at – even one which includes Pollard.

Katz rhetorically asked Tuesday: "Freeing terrorists and freezing settlement construction for Pollard? This is not how friends behave. It is immoral, it is wrong, and it is unfair to Pollard.

"If the US wants to make a true gesture (of friendship) it should free Pollard without conditions so he will have Passover dinner with his family in Israel. This is how allies behave."

Tourism Minister Uzi Landau has hinted he will also vote against the deal, but has yet to announce his official intentions.

Home Front Command Minister Gilad Erdan, who voted against the last round of Palestinian prisoner releases, will probably do the same this time, though he has also yet to make in announce in this regard.

Sunday Erdan said "we see that the Palestinians are adamant in not progressing (in talks). In such a reality, to demand Israel release murdering terrorist is immoral and unacceptable."

Agriculture Minister Yair Shamir posted a status on the subject on his facebook page, in which he claimed he would vote against such a deal – even if Pollard was included: "Mixing Pollard into a deal to extend talks is an unholy that should not be supported. The Palestinians continue to make dangerous and brash demands."

The three minister from the Bayit Yehudi party have kept their quiet on the issue, but past comments indicate that a tough road lies ahead.

Party chairman Bennett has yet to be called for a meeting with Netanyahu regarding the current developments, and source in his surroundings claim he will not comment on the issue until he learns its full details, including future demands in by the Palestinians and regarding construction in the West Bank.

Even Housing Minister Uri Ariel, who had previously made comments slamming the release, towed the party line and refused to say how he would vote if and when the deal would be put before the Cabinet.
Yaysayers
Sources within centrist party Yesh Atid have said in recent weeks that they would prefer a freeze in construction to a prisoner release, but promised that if a deal which includes continued talks and Pollard release would be put forward they would vote in favor.

Similar comments were made by the two ministers from the centrist Hatnua party – Justice Minister Tzipi Livni and Environmental Protection Minister Amir Peretz.