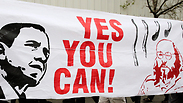 A protest in Jerusalem for Jonathan Pollard's release
Photo: AP
The mountains of material depicting Jonathan Pollard as a hero that have been published since his arrest at the gates of the Israeli embassy in Washington DC have caused the most damage in an affair that has had far-reaching and long-lasting repercussions.
Not only did Pollard, a Jewish American civilian naval employee, receive a life sentence for spying for Israel, but Israel's relations with the US in terms of intelligence-sharing sustained a major blow, from which they are only now starting to recover. Furthermore, the US Jewish community, feeling it had lost the trust of its government, which now considered it a traitor, took a stance against Israel on the matter. (American Jews now have a harder time receiving security clearance due to Pollard's actions.)
The US intelligence community shouldn't have been surprised by Pollard's actions and subsequent incarceration, given that his entire career had been based on lies, deception and flagrant security-related offenses.
Pollard was psychologically diagnosed as an extremely problematic person for the position he held in the US navy, yet he was promoted very quickly even so. According to CIA documents, parallel to his employment in sensitive positions in naval intelligence, Pollard and his first wife, Anne, were partying wildly in Washington, wasting a great deal of money and getting caught up in financial difficulties.
Related stories:
Israeli intelligence also recruited Pollard despite knowing about his problematic personality, in essence using a mentally ill man to serve as a spy and handling him in the most unprofessional way possible. Pollard had suitcases loaded with secret documents taken from the US navy archives, knowing he would one day get caught. But throughout the entire affair, no one stopped for a minute to think about the consequences and put a stop the madness.
When the whole affair exploded, Israel lied to American investigators, and wasn't smart enough to silence the string of right-wing ministers who supported Pollard, or his second wife, Esther, who has done everything she can to portray Pollard as a national hero. This aggravated the Americans even more as they expected no less that complete remorse, and this is why Pollard is still in prison.
Four factors could bring Pollard's sojourn in prison to a premature end, about a year before his due release date. The first are the documents exposed by Edward Snowden, which reveal that the US is actually spying shamelessly on its closest friends, including Israel.
Secondly, claims that the intelligence material has reached non-Israeli sources has turned out to be false, and in fact Israel has only used the information for its own national security.
Thirdly, Pollard has been in prison for almost 30 years, serving more time than most spies caught operating in the US. Finally, the once-vehement resistance by the American intelligence community to Pollard's release when then-president Bill Clinton weighed it in 1997 has worn down over the years.
Taking all these factors into consideration, it is clear that it's time to end this unhappy affair.